Jurassic World 3: 8 Questions We Still Have About Jurassic World: Dominion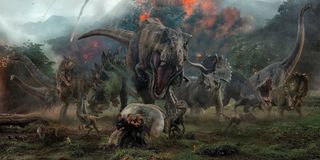 Just when you thought it was safe to wander into a dinosaur free world, Jurassic World: Dominion has charted a course to deliver some seriously brutal action involving creatures that haven't roamed this planet for eons. Years after the Lockwood Manor incident released various species of prehistoric creatures to the far corners of the world, Jurassic World 3 is ready to tell us just what happened after that fateful night ensured a lot of people would be losing sleep for some time to come.
While we could sit here asking tons of questions like whether or not Blue will ever become a domesticated dinosaur, or if Owen and Claire will ever make it work as a couple, we're not here to discuss the finer points of Jurassic World: Dominion's potential plot. Rather, we're here to wonder just how and when we'll get to learn more about the shape this film is going to take. The adventure 65 million years in the making continues with this new film, so let's begin asking some outstanding questions we have surrounding Jurassic World 3.
Will Jurassic World: Dominion Be Able To Resume Production In 2020?
Earlier this year, Jurassic World: Dominion had to press pause in its early days of production. As the COVID-19 pandemic forced director Colin Trevorrow to put away his dinosaur toys for the time being, the first big question that surrounds Jurassic World 3's production is whether it'll be able to pick back up where it left off before the end of the year.
The answer will, of course, depend on how this current medical crisis shakes out throughout the world. But with the British Columbia portion of the shoot only covering the first part of Jurassic World: Dominion's filming phase, the sooner things can start back up again the better. Especially when that very subject dovetails into another question we have about this film.
Can Jurassic World: Dominion Still Make Its 2021 Release Date?
While it's not a watershed anniversary, Jurassic World: Dominion is set to debut on June 11, 2021. Dropping on the exact day that Jurassic Park opened back in 1993, it feels like a good omen that this latest adventure into the world of Michael Crichton's sci-fi masterwork would take its first bows on that particular date.
Of course, with production on Jurassic World 3 being delayed, as mentioned above, there's a valid concern about whether the film will be finished in time to stay in this particular debut window. As co-writer/director Colin Trevorrow is working on aspects of the film while sheltering at home, there's a chance that the slack could be picked up and by time Jurassic World: Dominion starts filming again, all will still be on track.
When Will We See The Jurassic World: Dominion Trailer?
As the production status and release date for Jurassic World 3 are in question, there's another huge query looming alongside all of the others: when are we going to see the first trailer for the film? With this year's shifting release schedule pertaining to completed films thrown into chaos, there's no easy answer to when our initial peek at Jurassic World: Dominion might land.
If this fall's Universal Pictures releases stay locked into place, and if the studio still feels they have a 2021 release to advertise, Jurassic World 3 could see its first trailer drop as early as this October, when the Tom Hanks sci-fi drama BIOS is set to hit theaters. However, if the next Jurassic World movie happens to move to another blockbuster friendly release slot, it'll depend on where Jurassic World: Dominion shifts to, and what other films are around to properly advertise it in the right window of time.
What Is The True Meaning Behind Jurassic World: Dominion's Title?
With the revelation that Jurassic World: Dominion is the official title for what we've previously called Jurassic World 3, fans have turned their attention away from trying to guess what the title of this third film will be. Now the question is, what does the specific subtitle to this new Jurassic World film mean in the long run?
Speculation will run rampant, and already we've discussed a theory of what Jurassic World: Dominion promises fans of the franchise. We're still not totally sure if that guess is correct or totally off base, but for now it seems like a good stepping stone for the time being. It may be one simple word, but "Dominion" and its exact definition have even gotten Chris Pratt to think a little deeper about what this new movie is about. So that path of thought is probably a good one to keep walking on for the time being.
How Will Jurassic World: Dominion Use The Original Jurassic Park Cast?
A title is only one piece of the mystery that is Jurassic World 3's plot is currently dangling in front of the franchise fans trying to sleuth out what sort of trouble the world is in this time out. An even greater component that people should probably be discussing is the fact that Jurassic World: Dominion isn't only bringing back Chris Pratt's Owen Grady and Bryce Dallas Howard's Claire Dearing, as well as other Jurassic World fixtures, but there's also the fact that several original Jurassic Park cast members are returning as well.
With Dr. Alan Grant, Dr. Ellie Sattler, and Dr. Ian Malcolm all reuniting for Jurassic World 3's fun and games, there's a possibility that Sam Neill, Laura Dern, and Jeff Goldblum's big reteaming could be a mere exercise in fan service cameo bait. However, with all three of them back together, and the public clamoring for them to reassemble in the name of further dinosaur adventures, there could be a possibility that the story for Jurassic World: Dominion is so big, these classic characters will be able to coexist with the new kids without a problem.
Could We See Lex And Tim Return To The Jurassic Franchise?
All throughout Jurassic World's in-progress trilogy, we've seen the lore of the original film teased out in clues, hints, and mentions in this brave new dinosaur world. Jurassic World: Fallen Kingdom took the first gigantic step with the reintroduction of Jeff Goldblum's Dr. Ian Malcolm, setting the table for the reunion we just discussed above. But if Drs. Grant, Sattler, and Malcolm can return, can't Lex and Tim Murphy join in on the fun as well?
Last seen in The Lost World: Jurassic Park, the grandchildren of John Hammond haven't factored into series history for some time now. With Joseph Mazzello recently stating he hopes the world can see what Tim Murphy has been up to in the last couple of decades, and Ariana Richards also rumored to be up for a return, Jurassic World: Dominion could see the younger generation of Jurassic action back in the saddle as well.
Are There Going To Be More Shorts Like Battle At Big Rock To Set Up Jurassic World: Dominion?
Almost as if it was magic, one special cable showing of Jurassic World yielded a nice surprise for those who didn't expect it: the debut of the live-action short Battle At Big Rock. Long rumored to be a theatrical surprise for those who were going to see Fast & Furious Presents: Hobbs & Shaw, the Colin Trevorrow directed vignette showed audiences a new family of Jurassic World characters, and a new dose of dino induced terror.
With that short stoking the fires for Jurassic World: Dominion, it has to be asked whether or not we'll be seeing one or two more shorts similar to Battle At Big Rock, in the name of laying down the foundation for the sort of world Jurassic World 3 will be taking place in. If there are to be more shorts of a similar caliber, we might see them drop in the months that will see this new film at its most advertised state. Not to mention, should Jurassic World: Fallen Kingdom have a cable TV premiere not too long before Jurassic World: Dominion's theatrical release, that'd be a perfect time to drop another short but deadly appetizer.
Will Jurassic World: Dominion Conclude The Jurassic Park Series?
Trilogies tend to have a tendency to wrap up huge arcs, say goodbye to major characters, and end entire series in their third entries. That sort of setup is usually telegraphed in the promotion and behind the scenes going on with a film like Jurassic World: Dominion; and yet, so far, none of that sort of "end of an era" talk has hit Jurassic World 3's promotional canon.
Lacking in any sort of conclusive talk about whether or not the Jurassic World series will be ending with the next film, our final question is if our presumption that Jurassic World: Dominion will tie everything together in a massive adventure is true or not. Turning back once again to the Chris Pratt hype machine, his comment that this third film would be the Avengers: Endgame of the Jurassic Park series doesn't do anyone any favors when it comes to trying to dispel such thoughts.
But much like any of the other questions we've asked above, we'll have to wait until we get closer to our next brush with prehistory until we get those answers. For the time being, we only know some very limited details about where Jurassic World: Dominion is heading, and for the time being we'll be awaiting the film's release to the public on June 11, 2021. But should any of these questions get concrete answers, or any updates on when we'll be seeing this film come through the door, you can be sure to read those details on CinemaBlend as they break.
Your Daily Blend of Entertainment News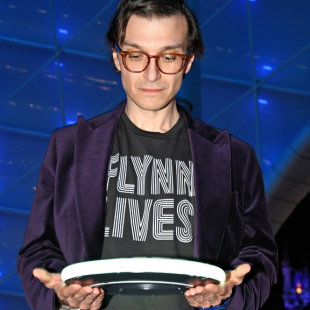 Senior Movies Contributor
CinemaBlend's James Bond (expert). Also versed in Large Scale Aggressors, time travel, and Guillermo del Toro. He fights for The User.