Avengers: Endgame Directors Reveal Their Favorite Memories From The Film's Opening Night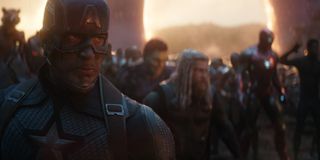 Avengers: Endgame recently celebrated their first anniversary on April 26, coincidently the same date as Alien Day, and it's still hard to believe it was over a year ago that we got to witness the end of an epic superhero era, saying goodbye to so many beloved Marvel characters in the process. But the audience wasn't the only ones to get chills; the Russo Brothers were also in awe, and recently shared their experience with us.
Directors of Avengers: Infinity War and Avengers: Endgame Joe and Anthony Russo both celebrated the movie's anniversary by putting on a livestream event on social media. Now, in an interview with Deadline, they shared their favorite memories from the film's opening night. Here's Joe Russo's favorite moment:
I bet everyone who was a fan of those movies can remember where they were when they saw it for the first time. But even after Joe Russo explained it, I can't imagine what that must have felt like to put in so much hard work and then see the full fruits of your labor on display in a theater full of devoted fans, eating up every last morsel of your movie.
Anthony Russo had a similar experience as his brother, Joe, but shed a bit more light on it what it truly meant to them. Here's his favorite memory:
Believe it or not, the Russo Brothers got their start directing and producing episodes of Community. Impressed with the paintball episode on Community, Kevin Feige tapped the Russo Brothers to direct Captain America: The Winter Soldier and later Captain America: Civil War. It wasn't until Kevin Feige saw their work on Captain America: Civil War that he realized the Russo Brothers would be the ones to tackle the huge challenge of directing two Avengers movies.
It's still pretty powerful watching some of the heartbreaking and awe-inspiring scenes in Avengers: Endgame. The phenomenal feat of successfully completing a satisfying ending to the Infinity Saga can't be understated. If you want to go back in time and revisit it all over again watching Avengers: Endgame, the Russo Brothers shared a video on Twitter of their experience being in the theater opening night. Enjoy.
Your Daily Blend of Entertainment News
Your Daily Blend of Entertainment News
Thank you for signing up to CinemaBlend. You will receive a verification email shortly.
There was a problem. Please refresh the page and try again.