9 Careers That Really Took Off After Community Ended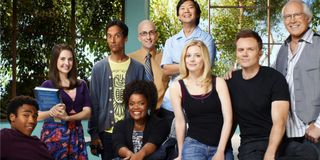 Community will long be remembered as one of the best sitcoms of the modern era, and that comes as an extension of having some incredible talent both in front of and behind the camera. From the genius mind of Dan Harmon serving as showrunner, to the incredible talents of Donald Glover on screen, every aspect of the show had brilliant people contributing to the overall greatness. All you have to do is watch the NBC series to understand this, but it's also very much reflected in all of the success that key contributors have had in the years since being a part of it.
Looking back on the six seasons of the series, there are specifically nine people who really stand out when it comes to reflecting on how far they've come since adding their particular genius to the excellence that is Community, and so we've put together this feature highlighting their journeys:
Dan Harmon
In creating Community, Dan Harmon earned a legion of lifelong fans. The show may not have ever been a ratings giant, but the people who tuned into its frequency deeply connected with what the showrunner was doing, and it's become a cult favorite as a result. Ultimately, despite some of the behind-the-scenes controversies, the NBC series provided Harmon with a passionate fanbase – and that fanbase has only gotten bigger thanks to the work he's been doing since, namely the Adult Swim hit Rick & Morty.
The end of Community actually overlapped with the launch of Rick & Morty, as the first season of the latter aired concurrently with the second-to-last season of the former, but the animated series has successfully captured the attention of a far bigger audience, and now it's easily one of the most popular shows currently airing. One can only hope that their appreciation of the cartoon is getting people to discover Community, especially since its now so easily accessible streaming on Netflix (opens in new tab).
Alison Brie
When Alison Brie began her run as bright overachiever Annie Edison on Community, a certain cross-section of the TV watching audience was already familiar with her work. By 2009, she had been featured in two seasons of the AMC series Mad Men, playing the young housewife of Vincent Kartheiser's Pete Campbell. That being said, the sitcom allowed audiences to see Brie's very real range, giving her the opportunity to play a very different character than Trudy Campbell, and we've seen a whole lot more of it in the years since both shows ended.
Nowadays, Alison Brie is probably best known for her central role as Ruth Wilder on the Netflix series GLOW, which is scheduled to release its fourth season later this year, but she has also been killing it on the voice actor front. In addition to consistently delivering a hilarious and emotional performance as Diane Nguyen on the brilliant series Bojack Horsemen, she has also played Unikitty in both of the LEGO Movies.
Donald Glover
For those who have been following his career for a while, the meteoric rise of Donald Glover has been extremely fun to watch. He was an internet star at first, creating hilarious content as part of the group Derrick Comedy (including the excellent feature Mystery Team), and from there he became a writer for 30 Rock – but it was really his work on Community that fully exposed his comedic brilliance and served as a key springboard to all of the amazing work he has done since.
Troy was unquestionably one of the best parts of Community, not only being half of the genius Troy & Abed duo, but also independently providing hilarity and surprising pathos. Dan Harmon has admitted that the best days of the NBC show ended when Donald Glover chose to leave, but you can't exactly hate on him just because of his remarkable contributions to pop culture in the years since. His FX series Atlanta has won him two Emmys and a Golden Globe, and he has become a dominant force in music as well, winning five Grammys in the last two years. And did we mention he played young Lando Calrissian in Solo: A Star Wars Story, and adult Simba in The Lion King remake? Few stars shine as brightly as he does, and he's only 36 years old.
Jim Rash
There were a hell of a lot of strange individuals who roamed the halls of Greendale Community College, but few were as ridiculous as Jim Rash's Dean Pelton. The sexually confused administrator with a penchant for wearing crazy costumes regularly stood out as one of the most eccentric characters in Community, and consistently provided some of the most hilarious moments on the show. He was also a notable creative force behind the scenes, both as a writer and as a director – and that makes sense when you take note of his accomplishments beyond the NBC sitcom.
Community was in the midst of airing the second half of its third season when Jim Rash's name was read by Angelina Jolie on the stage of the 84th Academy Awards, as he and co-writers Alexander Payne and Nat Faxon won the Oscar for Best Adapted Screenplay for their work on The Descendants. Since then, Rash has not only become a prominent voice actor, with regular roles on shows like Star Wars Resistance, Mike Tyson Mysteries, and Harley Quinn, but he's also teamed with Nat Faxon and started directing features – the most recent being Downhill with Will Ferrell and Julia Louis-Dreyfus.
Joe and Anthony Russo
When Joe and Anthony Russo were first hired to direct Captain America: The Winter Soldier, a lot of people were totally clueless as to who they were – but that group doesn't include Community fans. That particular collection recognized the brothers as a dominant force behind the making of their favorite comedy series, collectively producing 48 episodes and directing more than 30 (including the pilot). Those who watched the NBC show recognized the impressive talent that Marvel Studios had brought into their fold by hiring the sibling filmmakers, and the Russos are considered two of the most famous blockbuster directors in the world.
Captain America: The Winter Soldier proved to be only the start of Joe and Anthony Russo's career in the world of tentpole movies, as that hit was followed by Captain America: Civil War, and then the two-fer Avengers: Infinity War and Avengers: Endgame (the latter now considered the biggest blockbuster of all time). It's been great to watch as a Community fan, particularly because the Russos have consistently nodded towards their history with the show in their Marvel movies, specifically by including cameos by Jim Rash, Danny Pudi, Yvette Nicole Brown, and Ken Jeong.
Brie Larson
Community fans don't love talking about Season 4 (alternatively referred to as the "Gas Leak Year"), but one part of that era of the show that even Dan Harmon loyalists can agree on is that it featured one of the series' best character debuts. Having earned some recognition for roles in movies like 21 Jump Street, The Spectacular Now, and Short Term 12, Brie Larson was a welcomed addition to the Community family, playing a love interest of Abed's who is introduced independently running a coat check at a school dance. The role blossomed into more excellence in Season 5, with Larson returning for two more episodes – but since then the actor's profile has absolutely exploded.
It was shortly after being on Community that Brie Larson became an Academy Award winner for her stunning work in the drama Room, and now that acclaim has been paired with massive box office success as well. Like the Russo brothers, Larson also went on to become a part of the Marvel Cinematic Universe, and in 2019 her debut superhero solo film Captain Marvel became a billion dollar hit. She is now considered one of the biggest stars in the industry, and it's even more fun to watch her performances on Community now knowing that.
Justin Lin
Looking back on the history of Community, it was arguably the paintball epic "Modern Warfare" that really first helped the show not only capture attention, but start to define what it was going to be. Part of what made that episode so spectacular was because of the action-driven stylistic sensibilities that made it pop, and for that fans could thank director Justin Lin – who had a bit of experience under his belt having made both The Fast & The Furious: Tokyo Drift and Fast & Furious. It was ultimately one of three episodes that Lin helmed for the show, all during the first season, as one year later the guy saw his career blow up with the blockbuster release of Fast Five.
Thanks to a bit of star power infusion courtesy of Dwayne Johnson, the fifth chapter of the Fast & Furious franchise made almost double what its predecessor did worldwide at the box office, and Justin Lin found himself established as a major Hollywood director. He went on to then direct Fast & Furious 6, another massive hit, and for his last big screen effort ventured into outer space for Star Trek Beyond. He's since rejoined the Fast & Furious family, directing both the upcoming titles F9 and Fast & Furious 10, but Community fans will long recognize him for his contribution to the brilliant comedy series.
John Oliver
Admittedly John Oliver had made a name for himself prior to playing Professor Ian Duncan on Community. After all, he had spent years prior serving as a correspondent on The Daily Show With Jon Stewart, receiving great praise for his contributions. His time on Dan Harmon's show stands out, however, because it is one of the few examples of his live-action acting that exists – and it's also the biggest production he was a part of prior to doing the work that he is best known for today.
John Oliver had to conclude his time as part of Community in 2014 (a.k.a. after Season 5) because that was when he started hosting Last Week Tonight With John Oliver – the show that he continues to host today. Oliver has earned great acclaim for the series, which is now airing its seventh season and has won a grand total of 16 Emmy awards. All the same, we'll always remember him as the drunk Greendale professor who rapped about his penis and drinking tea at a school dance.
Who would you say has had the most success in the years since their contributions to Community? Hit the comments section with your thoughts!
Your Daily Blend of Entertainment News
Assistant Managing Editor
NJ native who calls LA home and lives in a Dreamatorium. A decade-plus CinemaBlend veteran who is endlessly enthusiastic about the career he's dreamt of since seventh grade.
Your Daily Blend of Entertainment News
Thank you for signing up to CinemaBlend. You will receive a verification email shortly.
There was a problem. Please refresh the page and try again.