The Internet Mourns Black Widow On Its Original Release Date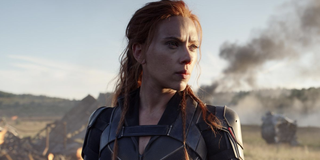 If this had been a normal year, cinephiles worldwide would be gearing up for an exciting summer of movies. Needless to say, this is not the case. For that reason, instead of packing movie theaters this weekend, MCU fans have lit up the Internet with mournful posts about Black Widow on what would have been its release date.
Black Widow was originally scheduled to hit theaters on May 1. In March, after it became clear that the coronavirus pandemic wasn't going away anytime soon, Disney began to shift its release schedule significantly, pushing back several films, including Mulan, Jungle Cruise and Black Widow. Fans of Natasha Romanoff have been waiting a long time for a Black Widow solo film. So it feels especially awful that the movie's release was so close and is now once again so far away.
Marvel fans may not be able to see Black Widow this weekend, but that doesn't mean they have forgotten what could have been. Dozens of tweets have cropped up over the past couple of days lamenting the film's delay. Because it's Twitter, some fans stuck to expressing their sorrow in meme-form - albeit choosing those that were decidedly on brand:
Others marked the occasion with well-placed ScarJo GIFs:
Jeremy Conrad of MCU Cosmic found comfort and despair by leaning heavily into multiverse theory. It may sound crazy but, if the concept is to be believed, there are countless fans in some alternate dimension who are currently enjoying the film:
Some fans just decided to pretend we aren't living in this timeline by posting their "reviews" of the film and what they're hoping will be its can't-miss moments. You can't fault them for their optimism:
And of course, fans marked the occasion by sharing some of the moments from the trailer they're most hyped for, all while cursing coronavirus for depriving us for the time being:
Fans are definitely going to be waiting for a while longer. Because Black Widow is one of Disney's most anticipated films of the year, there's little chance it's going to get an early streaming release like some other films. As of today, Disney has scheduled Black Widow's theatrical release for November 6 of this year. Whether that actually happens will, of course, depend not just on when we begin to relax social distancing measures but also on whether or not the studio thinks people will actually feel safe enough to go back to the movies. At this point, all we can do is hope for the best, keep an eye on new release dates as they're scheduled, and tweet about our agony to pass the time.
In a coronavirus-free reality, would you have seen Black Widow this weekend? Let us know in the comments.
Your Daily Blend of Entertainment News
Your Daily Blend of Entertainment News
Thank you for signing up to CinemaBlend. You will receive a verification email shortly.
There was a problem. Please refresh the page and try again.