The Best Part Of Filming Top Gun With Tom Cruise, According To Goose Co-Star Anthony Edwards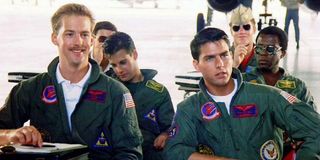 Top Gun, the fast paced, military action movie that gave audiences dogfights, beach volleyball games, and a need for speed is over thirty years old now. Yet no movie is too old to get a sequel, and that's exactly what's happening with the arrival of Top Gun: Maverick, which will feature the Tom Cruise and Val Kilmer reprising their roles.
Anthony Edwards, who played Goose, will unfortunately not be coming back for reasons that are pretty obvious. But Edwards has commented on the upcoming sequel, and he has high praise for former co-star Tom Cruise. Here's what he had to say:
I'm not sure if that switch is Tom Cruise's constant success at the box office or his need to run in all of his films but, if the high-octane trailers are any indication, Anthony Edwards's comments to Fox News are probably right, and the Top Gun sequel could be quite a ride.
Of course, even though Anthony Edwards isn't in the movie, he's already spoken briefly about how excited he is to see it, saying he has full faith in Tom Cruise to do it justice.
Top Gun: Maverick is helmed by Joseph Kosinski, who also directed Oblivion and Tron: Legacy. The film picks up 30 years after the original and sees the return of Pete "Maverick" Mitchell, who is now a test pilot and instructor. His past comes back to haunt him, however, when he meets Lt. Bradley "Rooster" Bradshaw, the son of his deceased friend and co-pilot, Lt. Nick "Goose" Bradshaw.
The character Lt. Bradley "Rooster" Bradshaw is played by Miles Teller, who will -- in a way -- continue the legacy that Anthony Edwards started. Like Edwards, Teller also seemed to have a good time working with Tom Cruise. But Cruise, of course, is known for his wild stunts and insatiable work ethic, and Teller has admitted that he struggled to keep up with Tom Cruise. This does make a lot of sense since Tom Cruise has been at this for a while now and, comparatively, Miles Teller is still working at his pilot wings.
Unfortunately, if you're pumped to see Top Gun: Maverick this summer, you'll ave to take a seat. It was announced earlier this year that the movie would be pushed back from its original release date due to the current state of the world. It's not a terribly long wait but, if you've got the need for speed, then it might feel like a lifetime.
I, for one, am certainly ready to hop back into the cockpit and take to the skies with Maverick again. Like Anthony Edwards mentioned, Tom Cruise has a solid track record and will likely make quite a comeback as Maverick. And now, I think I'm going to go rewatch Top Gun for the millionth time. Top Gun: Maverick will soar into theaters on December 23.
Your Daily Blend of Entertainment News
Your Daily Blend of Entertainment News
Thank you for signing up to CinemaBlend. You will receive a verification email shortly.
There was a problem. Please refresh the page and try again.