Crispin Glover: Fascinating Facts About The Back To The Future Star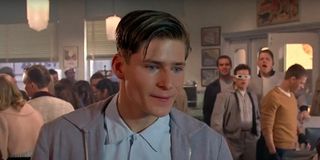 One thing I like to do whenever revisiting a classic franchise like Back To The Future is go back and look at the cast and what they've been up to in the decades since the first film's release. I spent some time looking into Michael J. Fox, Christopher Lloyd, and Leah Thompson, but nothing really compared to the crazy life and career of Crispin Glover.
If you didn't already know, Crispin Glover is somewhat of a strange cookie. Not in a "skeletons in the closet" type of way, but more of a "Let's paint a volcano together to prepare for a scene" type of weird. The eccentric actor, writer, and filmmaker, since attaining stardom as George McFly in Robert Zemeckis' revolutionary Back To The Future, has crafted an image for himself thanks to the mystery and strangeness that surrounds him.
After finding so many fascinating tidbits of information on Crispin Glover, I thought I'd share them so that everyone can see the amazingly bizarre actor for the borderline genius that he is.
After Glover Left Back To The Future Part II, The Producers Created A Mask Using The Actor's Makeup Mold
It's no secret that Crispin Glover's involvement in the Back To The Future franchise is a little messy, especially when you consider that not only was his character, George McFly, recast between the first and second movies, but the producers continued to use his likeness through the use of heavy makeup and obscured views of his replacement, Jeffrey Weissman.
Glover didn't return for Back To The Future Part II for a number of different reasons, depending on who you ask, but one thing that remains the same is the fact that his replacement looks like his twin (albeit in odd makeup).
During a 2014 appearance on The Sam Roberts Show, Crispin Glover explained that the producers took the molds used to create the older version of George McFly and created the prosthetic that was used to transform Jeffrey Weissman into a strange version of Glover, stating:
Glover Was So Upset About Back To The Future Part II That He Filed A Lawsuit
The drama surrounding the recasting of George McFly for Back To The Future Part II didn't stop when the film hit theaters in 1989. In fact, that was only the beginning. One year after the release, Crispin Glover and Doug Kari, his attorney at the time, filed a lawsuit against Universal Pictures for essentially making a mask out of his old makeup molds and slapping it on another actor.
In a 2015 profile on the lawsuit in the Hollywood Reporter, Kari revealed one of the reasons why he and his former client wanted to proceed with the case, stating:
The Hollywood Reporter piece goes on to explain that the company insuring Universal eventually pushed for the studio to settle after Glover's legal team was given the approval to depose Robert Zemeckis, Bob Gale, Michael J. Fox, Steven Spielberg, and other members of the production team. In the end, the settlement was reportedly around $760,000.
The Notoriously Bizarre Actor's Equally Strange Apartment Made Quite An Impression On Leah Thompson
Back when Crispin Glover was very much still a part of Back To The Future, he and co-star Leah Thompson agreed to get together one night to the work on their lines for the film's final scene (which Glover hated, by the way). Thompson recalled the meeting in a 2015 interview with the Hollywood Reporter where she revealed the rather unique styling of Glover's apartment and method of preparation, stating:
Crispin Glover Will Neither Confirm Nor Deny He Was On David Letterman For The Now Infamous 1987 Appearance
When not talking about Crispin Glover's appearance in Back To The Future one of the topics of discussion regarding the actor's past is his infamous 1987 interview with David Letterman on Late Night. While promoting River's Edge, Glover appeared as the titular character from Rubin And Ed, a movie that wouldn't be released for another four years. Dressed in platform shoes and a wig, the actor began spatting off about the media before challenging Letterman to an arm-wrestling match before almost kicking the host in the head.
Always one for mystery and intrigue, Crispin Glover has gone on the record multiple times jokingly saying that he nether confirms nor denies any involvement in the interview. During an interview with Interviewing Hollywood, the bizarre Glover gave an even more bizarre response, stating:
The Actor Made A Few Changes To His Character In Willard
In 2003, Crispin Glover starred in the suspenseful horror film Willard, which saw Glover portray Willard Stiles, an outcast who befriends a colony of rats and uses them to carry out revenge against those who have done him harm.
Although Crispin Glover was happy with the character and script, he did tell Entertainment Weekly that he had one suggestion for director Glen Morgan that the actor thought would bring more realism and depth to a character that could communicate with a large colony of rats, stating:
Glover Has Written Multiple Books And Has Shown Them Off As Part Of His Big Slide Show Presentation
When he's not acting, painting his apartment black, or nearly kicking late night hosts, Crispin Glover is hard at work on his other projects, including his 2016 project Crispin Hellion Glover's Big Slide Show, a two-night event in which the artist showed two of his own films and selections from eight of his illustrated books from the '80s and '90s.
But these aren't your normal books, as the actor and writer told Vogue. To create these works of art, Crispin Glover finds old novels in the public domain, blocks out text, rearranges sections, and adds his own words at times before drawing images on the pages.
The Actor Now Lives In A Czech Castle With Locked Rooms And Roaming Peacocks
And the final little tidbit of fascination surrounding the life and work of Crispin Glover is his massive estate in the Czech Republic, which was described by Architectural Digest as being "nothing short of fantastical."
Crispin Glover first purchased the 20-acre property back in 2003 and has spent the past nearly 20 years renovating the 17-bedroom house and surrounding buildings. The property was once used as a communist medical testing facility many, many years ago, but it's mostly used now for Glover's personal film productions and a place for his peacocks to roam freely.
To make it even more of a Crispin Glover move, the castle contains numerous locked rooms that no one is allowed to enter and the former owner just up and disappeared one day. Glover wouldn't have it any other way.
Those are just seven of the more fascinating facts about Crispin Glover. The eccentric actor, writer, and director has led quite a life and it looks like he won't be stopping anytime soon. Did you learn anything from this or do you still think of Glover as George McFly in Back To The Future? Either way, let me know in the comments.
Your Daily Blend of Entertainment News
Philip grew up in Louisiana (not New Orleans) before moving to St. Louis after graduating from Louisiana State University-Shreveport. When he's not writing about movies or television, Philip can be found being chased by his three kids, telling his dogs to stop yelling at the mailman, or yelling about professional wrestling to his wife. If the stars properly align, he will talk about For Love Of The Game being the best baseball movie of all time.
Your Daily Blend of Entertainment News
Thank you for signing up to CinemaBlend. You will receive a verification email shortly.
There was a problem. Please refresh the page and try again.