Tom Hardy Looks Horrifying As Al Capone In New Look At Movie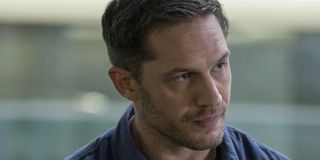 Since Inception, Tom Hardy has performed a balancing act between playing the action hero in movies like Mad Max: Fury Road to embodying more nuanced, villainous roles like Bane in The Dark Knight Rises or John Fitzgerald in The Revenant. Now, he's playing the villainous Al Capone in the soon-to-be-released, Capone.
There's no doubt that Tom Hardy fully commits to a role. Whether he's packing on the pounds as Bane or playing murderous twins in Legend, he steps up to the plate every time. His latest role as Al Capone doesn't look to be any different, especially from this horrifying, new still of him in character that was released on social media. Take a look:
Though I desperately want to look away from this haggard and grizzled version of Tom Hardy, it's also hard to not look in awe at the morbid transformation. The makeup is absolutely on point, but his pained and troubled eyes really sell the whole look. It's simply terrifying.
And it would appear that this radical and disturbing photo won't be the only part of the full Al Capone transformation. Tom Hardy is known for his strange voices, his Bane voice is practically legendary at this point, but he'll also have a strange way of speaking when playing Al Capone. While prepping for the role, Tom Hardy said he took inspiration from Bugs Bunny when formulating a voice for the iconic gangster.
Rather than focusing on Al Capone at the height of his power and control, Capone, originally titled Fonzo, is about Al Capone at the tail end of his life, which he spent in prison as he suffered from dementia and faced his violent past.
Capone is directed by Josh Trank, who most comic book fans likely remember for helming the critically panned Fantastic Four. If you recall, Josh Trank rose to sudden acclaim after his low-budget superhero movie, Chronicle, received considerable attention. Shortly after, not only was he given the keys to a beloved superhero franchise in Fantastic Four, but he was also slated to direct a Star Wars movie before being fired from the project.
Still, the director may be in more of his element directing a dark, morose movie about a grumpy gangster in prison. Fellow director Rian Johnson had a chance to see the movie and said it was "batshit bonkers in the best possible way" and recommended everyone go see it.
I'm personally conflicted about this movie. On the one hand, Capone could be worth the watch just to see Tom Hardy knock another role out of the park. Then again, it's troubling that the movie went direct to VOD. And as a superhero fan, it's hard not to think about how he handled Marvel's First Family. If you're curious to see more, definitely check out the trailer below:
Capone hits VOD on May 12.
Your Daily Blend of Entertainment News