Emily Blunt And Dwayne Johnson Have Planned Their First Movie Together Post-Jungle Cruise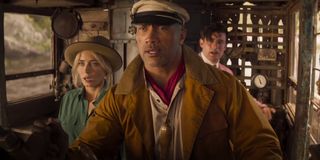 It's going to be more than a year before we get to see the team of Dwayne Johnson and Emily Blunt in Disney's Jungle Cruise. However, no matter what happens to the movie at the box office, it seems quite clear that Johnson and Blunt must have had a good time making it, as the pair are already re-teaming for another film.
Ball and Chain will see Dwayne Johnson and Emily Blunt as a married couple who are about ready to split up when a mysterious meteor gives them both super powers. The catch is that the powers only work when the pair are working together and not fighting each other. The story is based on a limited comic book series by Scott Lobdell. The screenplay is written by The Big Sick's Emily V. Gordon. The Rock's Seven Bucks Productions will produce.
According to Deadline, several studios are currently bidding over the film., though Netflix, which has The Rock's currently delayed production film Red Notice, is apparently the front runner.
Considering that even the trailer for Jungle Cruise shows that a decent amount of that film's comedy will come from Dwayne Johnson and Emily Blunt bickering, then a movie like this feels like a natural follow up for the pair.
Jungle Cruise was originally scheduled for a July release this year, but the schedule shuffling that came about due to theaters closing has pushed the film back a full year to July of 2021. Still, if anything, Ball and Chain, may be the strongest indication that Jungle Cruise is looking good. If the pair had a good enough time making Jungle Cruise that they want to re-team again this soon, then hopefully that chemistry comes through on the screen. If they had fun making the movie, then we should see that fun on screen when we watch it.
I'm certainly hopeful that Jungle Cruise turns out to be good, and if it is, then the option to see Dwayne Johnson and Emily Blunt again might be quite exciting for a lot of movie fans.
Of course, when we might see this movie is the big question mark. The Rock's Red Notice will need to finish production once productions are able to start back up again. And Ball and Chain might not be his next project. Although, with Jungle Cruise delayed until the summer of 2021, if timing works out we could get these two movies fairly close together. Especially if that happens, then the success of Jungle Cruise becomes important not only to Disney but to whatever studio picks up Ball and Chain, as the audience will likely be more interested in the second film if the first one is good, and less interested if the opposite happens.
Are The Rock and Emily Blunt the new Hepburn and Tracy? If they're that good together, hopefully they can just continue to make movies together. It seems likely that if Jungle Cruise is a hit that sequels there are basically a foregone conclusion.
CinemaBlend's resident theme park junkie and amateur Disney historian. Armchair Imagineer. Epcot Stan. Future Club 33 Member.
Your Daily Blend of Entertainment News
Thank you for signing up to CinemaBlend. You will receive a verification email shortly.
There was a problem. Please refresh the page and try again.