Mark Hamill Explains His Infamously Whiny Line From Star Wars: A New Hope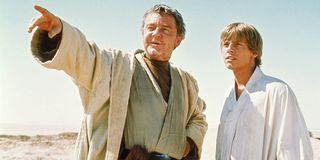 Over the course of his career, Mark Hamill has embraced the character of Luke Skywalker with all the joys and the trials that come with such fame and success. The actor has practically become synonymous with the character, and it's probably the first role people think of when they see him.
Despite many loving the force-wielding hero, Mark Hamill has also received plenty of jeers about his performance in the Star Wars movies. From his infamous "No, that's not true!" in the Empire Strikes Back to "But I was going to Tosche Station to pick up some power converters," some have criticized that the delivery could have been better. Now, with the 40th anniversary of Empire Strikes Back upon us, Hamill is defending himself:
Mark Hamill makes a strong point while speaking with StarWars.com. One of the best parts of the original Star Wars trilogy was watching not Luke Skywalker grow into a confident and mature hero. In A New Hope, Luke Skywalker is overconfident and whiny but, by Return of the Jedi, he's as cool as a cucumber. It's also fun to see our other favorite characters Han Solo and Leia Organa grow and change as well.
Over the years, the Star Wars fandom has grown increasingly divided, reaching a fever pitch with the latest installment, Star Wars: The Rise of Skywalker. Many Star Wars actors have called it out, including Chewbacca actor Joonas Suotamo, saying it's time for some to put their time to better use.
In fact, that fan toxicity has grown so much that reports confirmed that Game of Thrones creators D.B. Weiss and David Benioff stepped away from their own untitled Star Wars project because they didn't want to deal with potential backlash from fans.
Mark Hamill, who has been through the ups and downs of Star Wars more than most actors, has done a great job handling the criticism, sticking with the fans, and taking it in stride. But he's not only receiving feedback, as he's been known to dish it out, too. He's even confirmed that he doesn't fully understand Luke Skywalker in The Last Jedi.
With so many Star Wars movies coming out in the past five years, many have wondered if Star Wars fatigue is setting in amongst fans. When asked if there can be such a thing as Star Wars fatigue, Mark Hamill bluntly confirmed that he's even felt it himself.
Sadly, Mark Hamill's time as Luke Skywalker has come to an end, as Star Wars: The Rise of Skywalker marked the last time he'll be playing the iconic and titular character. He recently posted a bittersweet message on Twitter in which he said goodbye. Though it's likely tough for him, he's probably happy that he (hopefully) won't have to deal with quite as much fan criticism. Farewell, old friend. You can catch all of Mark Hamill's appearances in the Star Wars saga by streaming the films on Disney+.
Your Daily Blend of Entertainment News
Your Daily Blend of Entertainment News
Thank you for signing up to CinemaBlend. You will receive a verification email shortly.
There was a problem. Please refresh the page and try again.