Pete Davidson Talks How The King Of Staten Island Ties Into The Real-Life Tragedy Of Losing His Dad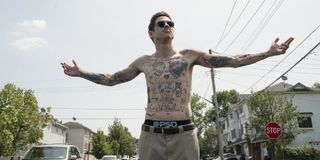 Judd Apatow's latest directorial effort, The King of Staten Island, isn't an autobiographical film, but that doesn't mean it's far removed from the life of its star, Pete Davidson. After watching the trailer, it's hard to not see the many influences the story takes from Davidson's life, an influence Davidson and Apatow purposefully use to enhance the story.
Now it's been revealed that the non-autobiographical comedy veers fairly close to home for Pete Davidson with the tragic loss of his father. In the movie, Davidson's character has a father who was a firefighter that tragically died. As it turns out, the same happened to Pete Davidson's father in real life, too. In a recent video, Judd Apatow shed a little more light on this sad event and how it correlates with the movie:
For a little background, The King of Staten Island is about Scott (Pete Davidson), a man living with his mother and struggling with grief after his firefighter father dies. He dreams of being a tattoo artist, but never does anything about it. Eventually he's forced to face his grief and move forward with his life.
When the trailer for The King of Staten Island released, Pete Davidson, who does live with his mother, told Jimmy Fallon in an interview that she's has been running into problems with people stopping by to give them drugs. As it turns out, The King of Staten Island has a strong connection with Pete Davidson's mother as well, with the SNL performer saying the following:
A few years ago, Pete Davidson took a break from being on Saturday Night Live due to mental illness. After realizing his marijuana use was making his symptoms worse, he quit pot and eventually reemerged during the show's 42nd season. Judd Apatow added that The King of Staten Island is a personal film for Pete Davidson. As he put it:
You can watch the full King of Staten Island featurette below.
Pete Davidson met Judd Apatow after Amy Schumer recommended him on the set of Trainwreck. Later, when Pete Davidson and Bill Hader hit it off on Trainwreck, Hader referred him to Lorne Michaels to be a player on Saturday Night Live. He, of course, nailed the audition and was hired.
Now Pete Davidson's star continues to shine. He nabbed a secret role on The Suicide Squad, directed by James Gunn, and he also was cast in a role on Nathan Fillion's The Rookie.
The King of Staten Island is set to release June 12 on VOD.
Your Daily Blend of Entertainment News
Your Daily Blend of Entertainment News
Thank you for signing up to CinemaBlend. You will receive a verification email shortly.
There was a problem. Please refresh the page and try again.