Pete Davidson's Mom Dealing With People Bringing Them Drugs Thanks To King Of Staten Island Trailer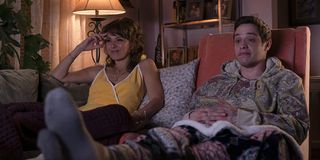 Pete Davidson, one of the youngest Saturday Night Live star in its televised history, is currently living in his mother's basement. He's dealt with drug problems in the past as well as suicidal thoughts, which led to him taking a short break from SNL a few years ago. But now he's back, and his star seems to only be shining brighter.
He's currently promoting his latest movie The King of Staten Island, written and directed by Judd Apatow, and surprise, it's about a guy who has a drug problem living with his mom. Pete Davidson recently admitted he's trying to quit drugs, but the recent movie trailer is making that goal harder. Here's what he said:
Pete Davidson definitely got real during his recent appearance on the The Tonight Show Starring Jimmy Fallon. Because Davidson has partially built a comedy brand on drugs and is heavily leaning into that in The King of Staten Island, one can admittedly understand why some fans would be compelled to send them to him. However, let's give the guy a break, as it's clear he doesn't want them.
Pete Davidson first connected with Judd Apatow on the set of the Amy Schumer and Bill Hader-led Trainwreck after Schumer recommended Pete Davidson when Apatow asked her who's funny. On that note, he gave Pete Davidson a short scene in the movie.
Consequently, this quick recommendation by Amy Schumer led Bill Hader to recommend Pete Davidson to Lorne Michaels. Davidson said he couldn't believe he could even audition for Saturday Night Live. Of course, he was hired at the age of 20, and the rest is history.
The King of Staten Island isn't the only big ticket movie Pete Davison will be starring in. He was also cast in DC's The Suicide Squad, directed by James Gunn. His role is being kept a secret, as of right now. And it was his role in The Suicide Squad that got him a part in Nathan Filion's The Rookie.
The King of Staten Island is produced under Universal Studios, and it's been announced that the film will be released to directly to VOD. With this, it will follow in the footsteps of fellow recent Universal releases Trolls World Tour and The Invisible Man. It's slated to release on June 12.
Your Daily Blend of Entertainment News
Your Daily Blend of Entertainment News
Thank you for signing up to CinemaBlend. You will receive a verification email shortly.
There was a problem. Please refresh the page and try again.