Jamie Lee Curtis Says Shooting One Halloween Scene Was One Of The Most 'Moving Moments' Of Her Career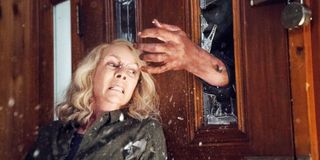 Jamie Lee Curtis' tenure in Hollywood has been nothing short of epic. After getting her start in what would become one of the most revered horror films of all time, she's built a lasting legacy as a leading woman across decades and genres. But it was her return to the Halloween franchise in 2018 that ended up giving her one of the most emotional moments of her career.
In 1978, a then-unknown Jamie Lee Curtis appeared as Laurie Strode in John Carpenter's low budget horror movie, Halloween. The film became a sensation, and Jamie Lee Curtis became a star thanks to her harrowing portrayal of the frightened, yet resilient, survivor of Michael Myers' murderous rampage. Forty years later, she returned to the franchise and reclaimed her well-earned title of Scream Queen.
This weekend, Blumhouse hosted a #HalloweenAtHome fandom rewatch of the hugely successful Halloween reboot on Twitter, and Jamie Lee Curtis participated, sharing behind the scenes intel about the production. During the live-tweeting session, Jamie Lee Curtis opened on Twitter up about filming one of Laurie's biggest scenes and told fans what a special moment it was for her:
Andi Matichak, who played Laurie's granddaughter Allyson, shared a photo of the nametags and revealed that the scene was actually filmed on the night they wrapped production, which must have made the moment all the more special:
It's easy to understand why that would have been such a huge moment for Jamie Lee Curtis. Prior to 2018, Jamie Lee Curtis appeared in two morefilms for the series -- Halloween II, in which Laurie famously learns that she is Michael Myers' sister, and Halloween H20, in which an adult Laurie has to face her brother yet again in order to protect her son. 2018's Halloween ignored most of the sequels and saw Laurie Strode grown up, but isolated and still dealing with the trauma she endured as a teenager. The whole film is about facing her fears and protecting her family -- and while it's still obviously traumatic for Laurie, it also empowers her, and reminds her that she is a survivor.
From all of the tweets from cast and crew during #HalloweenAtHome, it sounds like the whole experience of making the movie was pretty special. But this scene in particular may have felt like a full circle moment for the Oscar-winning actress on a personal level. She went from beginning her career as an unknown to being able to honor the character that has meant so much to her and so many others. Here's hoping Laurie and Jamie Lee Curtis both see some more incredible moments when Halloween Kills (hopefully) hits theaters on October 16, 2020.
Your Daily Blend of Entertainment News