How Ready Or Not Proves Its Directors Are Ready For Scream 5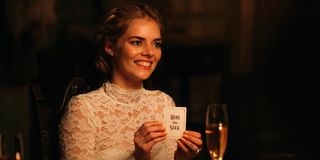 CinemaBlend is partnering with PIA VPN to bring you fresh content to stay in and stream with each day. We're also offering a special 76% discounted rate for a limited time only. You can sign up for the package with PIA here.
Scream 5 is probably one of the most hotly anticipated legacyquels ever dropped into the public consciousness. There's been plenty of discussion of who's coming back, with both Neve Campbell and David Arquette's names coming up in these early days, but an even bigger question looms over this particular. That question is whether or not Ready or Not directors Matt Bettinelli-Olpin and Tyler Gillett are ready to take the reins of Wes Craven's horror franchise.
Looking at last year's severely underrated horror-comedy romp, it's not hard to see why these two helmers are perfect for Scream 5's collective director's chair. And with the recent HBO premiere of Ready or Not acting as another reminder of how fun that particular film was, it's a good reminder of just why the directing team known as Radio Silence are ready to continue Sidney Prescott's adventures in evading death.
Ready Or Not Is A Perfect Horror Comedy
If you're going to make a movie like Scream 5, you really need to have a command of both the horror and comedy genre. Any director looking to command this particular franchise needs to understand both worlds as singular concepts, before they try to combine the two together.
Matt Bettinelli-Olpin and Tyler Gillett showed their mastery in Ready or Not, as neither flavor is overridden by its complimentary number. Horror and comedy both get a chance to shine, as Grace (Samara Weaving) and her quest to survive a night of horror at the Le Domas family manor is at times horrifying and in other moments absolutely hysterical.
Scream 5 needs to keep that precarious cocktail of shock and laughs balanced, and merely on the merits of how Ready or Not turned out, Bettinelli-Olpin and Gillett have that general understanding nailed down.
The Tension And The Humor Present In Ready Or Not Are Perfectly Balanced
On a more specific level, the pacing and pitch of Ready or Not does demonstrate the fact that Matt Bettinelli-Olpin and Tyler Gillett know their horror from their comedy. But even with that understanding at hand, there's a chance that the equation could be imbalanced in favor of one half or the other.
Even working with a script from writers Guy Busick and R. Christopher Murphy, where the tension and horror are already baked in, Ready or Not still needs to have a director team that knows what works on the page. So it's pleasing to know that the balance of tension and humor in the film resonates perfectly in its final product.
This is especially important for those working on Scream 5 to keep in mind, and in the case of hiring Bettinelli-Olpin and Gillett on their own, it works. However, as Ready or Not co-writer Busick is one of two writers working on this sequel's script, this team-up feels even more prone for success.
Samara Weaving's Grace Is Basically A Scream Protagonist
While Neve Campbell is in talks to come back to Scream 5, there's a chance that another secondary protagonist is going to be cast to represent the next generation of potential victims. Whether she's even being considered for the role of not, Samara Weaving's performance in Ready or Not has proven that this film's team totally understands what makes a Scream protagonist work.
Embodied with a survival drive so strong a particularly horrific hand injury is seen as an advantage, Grace's transformation from blushing bride to destroyer of the Le Domas family line is absolutely believable. Tack that onto a wit so sharp it could have probably killed in the absence of the various weapons in play, and you've got a protagonist that would feel so at home in the world of Scream.
As if their heartfelt letter to Neve Campbell upon their hiring didn't show that Matt Bettinelli-Olpin and Tyler Gillett totally respect approaching Scream 5, they also know how to shoot and adapt a script that understand the franchise they're looking to become a part of. Most importantly, they know what a Scream protagonist needs to do in order to come off as believable.
Matt Bettinelli-Olpin and Tyler Gillett Know How To Build An Ensemble Cast
Bettinelli-Olpin and Gillett's understanding of what makes a Scream protagonist extends to the entirety of the cast they put together for Ready or Not. Just taking one look at the actors that make up the film's Le Domas family shows they're ready to tackle that challenge too.
Any potential Scream 5 helmers need to uphold the tradition of a killer ensemble flanking the final girl who will defeat the latest variant of Ghostface. So casting an ensemble is something any potential director should be able to do in their sleep.
Having heavy hitters like Adam Brody, Henry Czerny, and Andie MacDowell all challenging Samara Weaving's chances of survival in Ready of Not proves that Matt Bettinelli-Olpin and Tyler Gillett definitely have that skill. And what's more, they could even dip into that particular roster for Scream 5, should they really want to bring back one or many of the actors that made this hide and seek horror-comedy a fatal hit.
The Slickness Of Ready Or Not's Visual Palette Means Only Wonderful Things For Scream 5
There's a definitive look to the Scream franchise that needs to be carried over, or at the very least hinted towards, in Scream 5's telling. While filmmaking has evolved throughout the entire series' run, this horror classic has always looked like something you've popped into a VCR, complete with the warm and cool tones only film can provide.
Watching Ready or Not, you can tell that Matt Bettinelli-Olpin and Tyler Gillett love utilizing a very sharp and slick visual palette themselves. And as luck would have it, the demise of the various members of the Le Domas gaming dynasty looks like it too could have sat on a shelf of VHS tapes, while also maintaining a crisp and modern sheen.
When you've got a pair of directors that care about their chosen genre, right down to the visual presentation of a film like Ready or Not, you can bet they'll maintain that level of attention in Scream 5. And that's probably the cherry on top of this delightful murder sundae. Well, that and even Scream's OG writer Kevin Williamson is excited to work with this team as an executive producer on the next film. Which is thanks to his own appreciation of one particular film: Ready or Not.
Matt Bettinelli-Olpin and Tyler Gillett have proven their hiring for Scream 5 couldn't have been better timed. The funny thing is, they presumably didn't even know they were building such a case back when they made Ready or Not. They really just wanted to make a slick as hell horror-comedy that entertains as well as it dazzles, and now the world can take the time to truly appreciate it as an appetizer for their efforts on this next Scream installment.
Whether you already know the ending, or you're ready to take the plunge for the first time, Ready or Not is now available for rental/purchase, as well as currently airing on HBO's various platforms.
Your Daily Blend of Entertainment News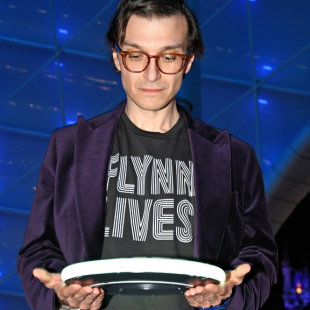 Senior Movies Contributor
CinemaBlend's James Bond (expert). Also versed in Large Scale Aggressors, time travel, and Guillermo del Toro. He fights for The User.