Don Cheadle Is Having The Best Time Messing With Sonic Star Ben Schwartz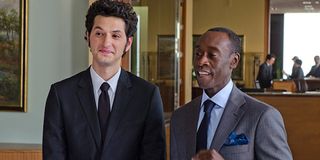 While Don Cheadle is widely known for his performance as the straight-laced, responsible James Rhodes in the Marvel Cinematic Universe, he seems to have a pretty good sense of humor in real life. Lately, while he's on pause from suiting up as War Machine, he's been messing with Sonic the Hedgehog star Ben Schwartz on social media.
When Ben Schwartz shared a post of himself appearing in the print edition of The Washington Post, Don Cheadle pounced on social media, commenting on it in a pretty hilarious way. Check it out:
First off, this isn't some random drop-in by Don Cheadle to an absolute stranger. For those who don't know, Don Cheadle and Ben Schwartz have worked together on the show House of Lies. On the show, Cheadle played the main character, Marty Kaan, a management consultant who uses mind tricks on potential clients to get them to do what he wants. Ben Schwartz played Clyde Oberholt, who originally was one of Marty Kaan's consultants. So, yeah, they have a history.
Secondly, Escape at Dannemora is a Showtime limited series directed by Ben Stiller that's received rave reviews from critics, but got plenty of hate from Joyce "Tilly" Mitchell, whom the show is about. Clearly Don Cheadle is making a little joke here, mistaking Ben Schwartz for Ben Stiller. But the fun didn't stop here. Don Cheadle kept it going:
Typically the situation would be the other way around with Ben Schwartz cracking the jokes. He is well-known for being a comedian, especially with roles like Clyde Oberholt on House of Cards and Jean-Ralphio on Parks and Recreation. Of course, you can easily tell in the tweets that Ben Schwartz is playing along with the gag.
Later in this thread of Don Cheadle confusing Ben Schwartz with Ben Stiller, the Zoolander star gets in on the fun and tries to help the situation, but obviously isn't doing Schwartz any favors. Check it out:
Funny man Ben Schwartz has been riding high recently with the success of Sonic the Hedgehog. He played the titular character and now it looks like he'll be returning as the blue speed demon, as it was recently confirmed that Sonic the Hedgehog 2 is happening over at Paramount Pictures. Which is good news for Ben Schwartz, who fought hard to play the role, saying it was a long process and that he really wanted it.
With Don Cheadle hopping into the cartoon game with Space Jam 2 and his hilarious chemistry with Ben Schwartz, maybe they need to team up again, but this time on the silver screen? I could totally see Don Cheadle voicing Knuckles, just saying. If they two decide to team up for a movie, we here at CinemaBlend will let you know.
Your Daily Blend of Entertainment News
Thank you for signing up to CinemaBlend. You will receive a verification email shortly.
There was a problem. Please refresh the page and try again.