The Sweet Way Robin Williams' Grandson Is Learning About Him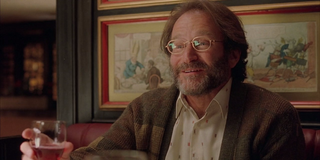 There's no question that Robin Williams' legacy in Hollywood is tremendous. For his family members, the impression he left behind goes far deeper than just the impact of his career -- but the late actor's son has found a unique way of using his most famous movies to help introduce his own child to the grandfather he never met.
When Robin Williams passed away in 2014, he was survived by his wife, Susan Schneider and his three children, Zac, Zelda and Cody. In 2019, Zac Williams' son, McLaurin -- a.k.a. Mickey -- was born. Though he'll never be able to meet his grandfather, Zac Williams has tried to make him a part of his son's life:
Cels are transparent pieces of celluloid that are used during the animation process, and Zac Williams revealed to People that he and Olivia June own several from Aladdin. The 1992 Disney classic, in which Robin Williams played the Genie, is easily one of the actor's most infamous performances. It's also definitely one of the few that would be age appropriate for a baby to engage with. But it sounds like both parents have been very mindful about how to integrate elements of Robin Williams' life and career into their son's life. Zac Williams said they've decided to go about the process gradually:
In the years since Robin Williams' death by suicide, his children have found multiple ways to honor the impact he left on their lives. Zac Williams recently joined the advisory board of Inseparable, a new mental health organization that formed in response to the COVID-19 pandemic. Zelda Williams has penned numerous tributes to her father online to commemorate both his birthday and the anniversary of his death.
While it can't be easy for any of them to have to live through these milestones without him, it sounds like Robin Williams' children are doing everything they can to make sure his memory lives on for future generations.
Your Daily Blend of Entertainment News