Robin Williams' Daughter Pens Sweet Tribute On His Birthday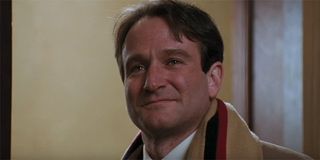 The late, lamented Robin Williams passed away nearly four years ago, and neither his impact nor the sting of his loss has diminished in that time. The beloved actor and comedian would have turned 67 years old yesterday, so in recognition of his birthday, his daughter, the brilliantly named Zelda Williams, penned a sweet tribute to her father and one that speaks truthfully about the loss of a loved one and the pain of memory. So get those tissues on standby and take a look below at Zelda Williams' tribute in recognition of Robin Williams' birthday:
This is tough stuff and anyone who has lost someone, especially a family member, can empathize with exactly what Zelda Williams is talking about here. Holidays, anniversaries, birthdays, annual moments that you shared or celebrated with a person now gone are imbued with sadness and the weight of memory. These moments are inescapable in their regularity, opening wounds anew each and every time they arrive. With her father's birthday no doubt bringing up many memories, once happy, now melancholy, Zelda Williams struggles with this time of year, as anyone would. She mentions that she won't be as present on social media and that is understandable. Robin Williams' birthday in July is followed by the anniversary of his death in just a few weeks.
Zelda Williams is also incredibly honest in her Instagram post about the way her father's birthday affects her, but also how the outpouring of love from fans, while well-intentioned, actually makes things harder. The whole world felt the loss of Robin Williams, but our experience is not the same as Zelda Williams'. More than an actor and entertainer, many of us grew up with Robin Williams, and he was as integral to our childhood as someone could be who we didn't know personally. He felt like a part of the family, but he wasn't. For Zelda Williams, he was her family. So her grief is understandably very personal, and there is no equating ours to hers.
Zelda Williams describes the outpouring of love as overwhelming, and that when people reach out to her, she feels burdened to respond. There is a natural human inclination to commiserate together, but that is not always what someone needs. Sometimes you aren't interested in hearing "I'm sorry for your loss" or "My condolences" or any other well-intentioned platitude from those you know personally when dealing with a death in the family, much less from a bunch of strangers online. Everyone grieves in their own way, and Zelda Williams has given voice to dealing with loss, while also providing a sweet tribute to her father's memory on his birthday.
So in honor of his birthday, pop in Aladdin or Hook or Mrs. Doubtfire or Dead Poets Society or Good Will Hunting or Ferngully or any of his many classics, and remember Robin Williams in your own way.
Your Daily Blend of Entertainment News
Nick grew up in Maryland has degrees in Film Studies and Communications. His life goal is to walk the earth, meet people and get into adventures. He's also still looking for The Adventures of Pete and Pete season 3 on DVD if anyone has a lead.