Why The Batman's Paul Dano Feels 'Really Good' About The Superhero Movie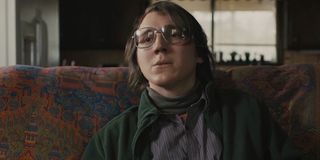 It feels like another lifetime ago that we were all getting geeked about The Batman. Thanks to intriguing casting news and glimpses of the eponymous hero's new batsuit, the early weeks of 2020 were a particularly exciting time for fans. Then, the global health crisis put the film's production, and our excitement about a lot of things, temporarily on hold. Despite the temporary delay, it sounds like Paul Dano is at least still feeling very optimistic about the movie.
Paul Dano, who plays The Riddler in The Batman, had barely started work on the movie when everything ground to a halt. That had to be a strange experience -- but it's one he seems to be taking in stride, and more than happy to talk about why he's happy to be a part of the film:
It's cool to see that Paul Dano's enthusiasm for The Batman hasn't been dampened, even in the midst of such a strange moment in history. Unfortunately, he told The Playlist he's not legally allowed to talk about any of the script's details, which has pretty much been the Batman party line thus far. Still, he's not the only cast member who's vouched for its excellence. Back in January, Colin Farrell, who will play the Penguin, called the script "beautiful, dark, moving."
As for Matt Reeves, it's good to hear that Paul Dano feels confident that he's at the helm for The Batman. It's been interesting to watch his creative decisions unfold. He raised some eyebrows when he cast Robert Pattinson as Bruce Wayne, but he's also assembled an incredible team to work with him behind the camera. So it definitely seems like he's taking a bold but very serious approach to the iconic character.
With so much potential for greatness, it's natural to wonder when the cast and crew will be able to reunite. That's something we may be waiting on a little longer -- if Paul Dano hasn't heard anything about production resuming, it's safe to assume it won't be in the immediate future. There are signs that some crews will be back to work soon, but there are a lot of factors involved in Warner Bros. making that call.
For the time being, The Batman is still scheduled to hit theaters on October 1, 2021.
Your Daily Blend of Entertainment News
Thank you for signing up to CinemaBlend. You will receive a verification email shortly.
There was a problem. Please refresh the page and try again.