The Rough Injury Arnold Schwarzenegger Sustained On The Set Of Total Recall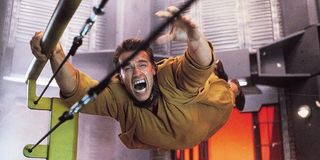 Leading actors doing their own stunts in a movie sounds cool, but it can also be really dangerous, cause bodily harm to the actor, and potentially delay production. Arnold Schwarzenegger is obviously no stranger to action movies, and on the set of Total Recall he sustained a rough injury doing one stunt in particular.
Believe it or not, Total Recall is now 30 years old. Yahoo! Entertainment highlighted this milestone in an interview with Arnold Schwarzenegger. He talked about many of his early action films and broke down one scene in Total Recall where he smashed in a train window with a gun. Here's what he said:
Wow. While Arnold Schwarzenegger's injury was deep, it sounds like he was in good enough shape to continue working. Total Recall went on to became a box office and critical success, and is considered one of Schwarzenegger's best action films of all time.
It probably comes as no surprise that this isn't the first time Arnold Schwarzenegger has been injured while filming on set. While working on the set of The Last Stand, he "got a little banged up" and sustained a minor head injury. But, this didn't slow the Terminator actor down any, saying the medical team got him back to work in an hour.
The history of leading actors getting injured on set is long, of course. But some times these injuries like Daniel Craig getting an ankle injury on a Bond set become so injured filmmakers are forced to delay production. While filming Star Wars: The Force Awakens, Harrison Ford famously injured his ankle on a Millennium Falcon set, which also caused production delays-- which director J.J. Abrams used to help improve the script in the meantime.
And, with all the wild stunts he's known for on his own action films, Tom Cruise also suffered a broken ankle on the set of Mission: Impossible – Fallout after he jumped from a platform over a rooftop, but didn't jump far enough. This injury delayed filming, and like J.J. Abrams, Christopher McQuarrie found a silver lining and used that time to figure out the holes in the script.
With so much on the line for movies productions if leading actors become injured, it makes sense why they need stuntmen to do the work for them. And, with that in mind, stars like Arnold Schwarzenegger have pushed the Academy Awards to include an Oscar category for stuntmen. Whether or not that'll happen has yet to be seen.
Your Daily Blend of Entertainment News
Thank you for signing up to CinemaBlend. You will receive a verification email shortly.
There was a problem. Please refresh the page and try again.