Why Training For The Winter Soldier With Chris Evans Was Grueling, According To Frank Grillo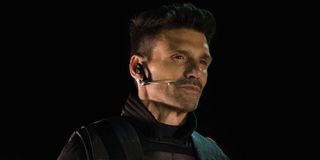 There's a lot that goes into executing action sequences, and Frank Grillo would know this better than most people. Grillo has had plenty of action-heavy roles, with projects like The Grey, Zero Dark Thirty and The Purge films under his belt. However, many might know him best for starring alongside Chris Evans in Captain America: The Winter Soldier, and it would appear that working on that project proved to be intense.
The actor, who played S.H.I.E.L.D. agent-turned HYDRA operative Brock Rumlow in Captain America: The Winter Soldier, recently recalled his time working on the film. He specifically spoke on the advanced choreography and the repetition that came with learning it. Frank Grillo also made it a point to highlight the physical wear and tear that comes with the job:
Based on Frank Grillo's vast experience and what we see on the big screen, it's easy to understand his comments to Uproxx. Actors and choreographers spend months preparing action scenes before the cameras even start rolling on. This isn't even considering some of the more intricate sequences that are featured in blockbuster franchises like the Marvel Cinematic Universe.
One of the major parts of Captain America: The Winter Soldier that Frank Grillo was likely thinking about while reflecting is the fan-favorite elevator scene. During this sequence, Steve Rogers rides an elevator with Brock Rumlow's S.T.R.I.K.E. team, who are revealed to be loyal to HYDRA. Sensing that Rogers knows this, the group attacks him, but he's ultimately able to finish them off. It was undoubtedly a tricky scene for the crew to pull off, but the end result was a sight to behold.
The MCU has been known for its fantastical and otherworldly action sequences but, with The Winter Soldier, directors Joe and Anthony Russo proved the franchise could also thrill audiences with battles that were more grounded and practical. This included several hand-to-hand combat sequences, such as the one present during the film's opening scene. And of course, we definitely can't forget the memorable highway fight between Steve Rogers and Bucky Barnes.
Working on Captain America: The Winter Soldier may not have always been the easiest for Frank Grillo, Chris Evans or their co-stars, but their work did pay off in a big way. They helped usher in a new era for the shared universe and created what's considered by many to be the MCU's best installments. The aches and bruises may still be present, but something like that definitely keeps you going.
Captain America: The Winter Soldier is currently streaming on Disney+.
Covering superheroes, sci-fi, comedy, and almost anything else in film and TV. I eat more pizza than the Teenage Mutant Ninja Turtles.
Your Daily Blend of Entertainment News
Thank you for signing up to CinemaBlend. You will receive a verification email shortly.
There was a problem. Please refresh the page and try again.