The Matrix Director Explains Why She 'Had To Walk Away' From Hollywood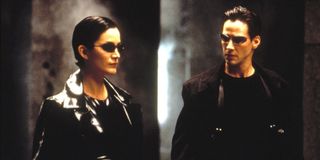 The Matrix is, without question, one of the most influential film franchises of our lifetimes. It's also one of the most successful - which is why some fans were surprised when the siblings behind it took a step back from Hollywood a few years ago. Now, Lilly Wachowski has opened up about why she felt she had to walk away from Hollywood.
In the mid-to-late '90s, Lilly Wachowski began her career as a filmmaker. She hit it big with The Matrix in 1999, which turned out to be both a blessing and a curse for her, both personally and professionally. She recently said:
Her frustration at the powers that be in Hollywood wasn't the only factor in her decision to take a break from filmmaking, though. The director and writer also explained to The Hollywood Reporter that she channeled a lot of her rage and frustration at capitalism and oppression into The Matrix. It was frustrating for her to see the film series, and the concept of the "red pill," be co-opted in conservative circles. That was only part of what led her to take a step back from her Hollywood career, though.
Lilly Wachowski also helmed fan-favorite Netflix series Sense8, which dealt with many themes surrounding gender and identity. When the series was first picked up in 2015, she was still known as Andy Wachowski, and her sister Lana (formerly known as Larry) had already transitioned. In 2016, Lilly Wachowski formally came out as a transgender woman. She told THR that another reason she felt compelled to walk away from the film industry six years ago was that she needed the chance to do some "personal world building." That included focusing on her transition, as well as studying art and exploring the world of stand-up comedy.
Today, she has returns to Hollywood on her own terms with her first new project in five years. She is the showrunner and writer for Showtime's Work In Progress, a series about a lesbian who falls in love with a trans man. The franchise that made her popular is, of course, returning for another installment with The Matrix 4, though Wachowski won't be reteaming on the project with her sister, Lana, who serves as writer, director and producer on the 2021-scheduled project.
So what brought her back to Hollywood? Lilly Wachowski says that she has heard from fans who have told her how important her work has been in helping them accept their own identities.
Your Daily Blend of Entertainment News
Thank you for signing up to CinemaBlend. You will receive a verification email shortly.
There was a problem. Please refresh the page and try again.