Evil Dead's Danny Hicks Reveals He's Dying Of Cancer In Touching And Direct Social Media Post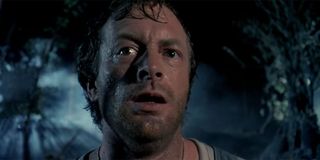 Fighting cancer sucks. There's no sugarcoating that or making it sound more agreeable. It's particularly hard when you get bad news related to your cancer diagnosis, as Evil Dead franchise actor Danny Hicks did this week. The actor revealed he's dealing with Stage IV cancer and the prognosis is not good. In fact, he's dying, but his response to the news is touching and handled in an admirable and courageous way.
Danny Hicks is dying of cancer. His prognosis says he will have somewhere between one and three years to live, but his outlook on his life, where it took him and where it is going says a lot. In a recent Facebook post the actor was direct as he shared the news with fans, noting,
Danny Hicks, also often credited as "Dan," kicked off his career in Hollywood more than 30 years ago with a role in Evil Dead II. He's been in the business for years, but is probably best known for playing Jake in Evil Dead 2, so when he announced his Stage IV cancer diagnosis, he also mentioned an Evil Dead reference to the fruit cellar, a location reference to Evil Dead 2.
Spoilers obviously, but it's in the fruit cellar where Jake meets his demise at the hands of Bruce Campbell's famous Ash character. Danny Hicks would later pop up in other Sam Raimi projects, including Spider-Man 2 and Intruder. His recent credits include Dick Johnson & Tommygun vs. The Cannibal Cop: Based on a True Story and Elder Island.
Still, Danny Hicks seems very proud of his work within the Evil Dead franchise. He's active on social media and often shares throwback posts such as this one with his fanbase.
His co-star in the movie, the famous Bruce Campbell (who is also often active on social media), reached out to retweet info about Danny Hicks, who currently has a store with merchandise set up to raise money in order to help the actor with medical expenses during this tough time.
Cancer is a tough road to go down and it's something largely outside of your control. Basically the only thing you can control is your reaction to what's happening to you and Danny Hicks seems like he has a strong outlook and a lot of living still to do. Here's wishing him the best as he embarks on this journey.
Reality TV fan with a pinch of Disney fairy dust thrown in. Theme park junkie. If you've created a rom-com I've probably watched it.
Your Daily Blend of Entertainment News
Thank you for signing up to CinemaBlend. You will receive a verification email shortly.
There was a problem. Please refresh the page and try again.