People Are Not Happy Alex Trebek Has Been Called 'Unrecognizable' During Cancer Fight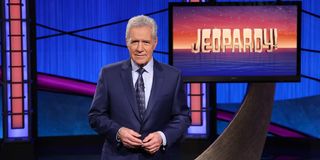 Alex Trebek's battle with stage four pancreatic cancer is no secret. The Jeopardy! host has been open about his experience with chemotherapy, often providing updates to fans about his health. Recently, Trebek was called "unrecognizable" during his cancer fight and people are not happy about it.
Here's what happened: The Daily Mail published several paparazzi shots of Alex Trebek taking out the trash near his home. The article commented on his looks, describing Trebek as "frail and pale" and that he looked "almost unrecognizable" now that he no longer had hair. Presumably, the game show host was bald because he was undergoing chemotherapy at the time the photos were taken, though that has not been confirmed.
Many were not happy with the tabloid running the feature or the photographer who snapped the pictures of Alex Trebek. SurvivorNet, a publication that offers cancer patients and their families information, asked its readers whether it was okay to comment on and take photos of the game show host while he was battling cancer and running an everyday errand.
The general consensus was no, it wasn't okay at all. Most of the commentators noted how disgusting it was that these photos were even taken and the overall lack of compassion that they represented. Others pointed out that they didn't think Alex Trebek looked frail at all, but "strong" and "amazingly healthy."
Over on Twitter, one Jeopardy! fan defended Alex Trebek, citing that the tabloid shouldn't be "talking shit" about how he looked and that the article and photos were in poor taste considering that Trebek was a cancer patient and that it was "probably a miracle he is walking unassisted" considering his circumstances and age.
Back in March, Alex Trebek shared an emotional update about his health. At the time, the game show host had just hit the one-year anniversary of his pancreatic cancer diagnosis. He stated that his journey hasn't been an easy one, but that he was happy to have made it one year after his diagnosis, especially given that the survival rate at stage four is only 18%.
On July 21, Alex Trebek will release his memoir, The Answer Is…: Reflections on My Life. The Jeopardy! host's decision to write the book was actually influenced by the positive outpouring from fans following the initial announcement of his cancer diagnosis. It seems fans' love for Trebek knows no bounds. Their defense of him in the wake of the recently released photos and commentary on his appearance is a reflection of that.
Jeopardy! airs weekdays in syndication, so check your local listing. The game show is also now available to stream on Netflix and Hulu. For more on what to watch in the coming months, be sure to check out our 2020 summer TV premiere guide.
Your Daily Blend of Entertainment News
Thank you for signing up to CinemaBlend. You will receive a verification email shortly.
There was a problem. Please refresh the page and try again.