Kevin Bacon Reveals The Downside To His Iconic Friday The 13th Role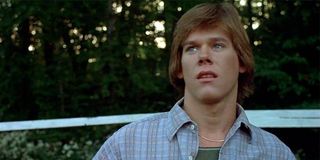 Kevin Bacon is a heavyweight actor with a number of iconic roles involving almost every genre, from horror to historical dramas to superhero movies. Yet,despite his best efforts, he can't seem to escape one of his earliest roles as Jack in Friday the 13th. Though his fame grew after the role, Bacon has revealed that there are downsides.
Kevin Bacon is stepping back into the horror genre again with his latest movie, You Should Have Left, written and directed by David Koepp. Recently, he sat down with EW to talk about his past roles which, of course, led to Friday the 13th being brought up. Here's what he had to say about the downside to that role:
Yikes! I can definitely see why that would be a big downside. Who wants to keep reliving their death over and over again? You'd think the picture fans would want to have autographed is from Footloose, or maybe even Tremors, but not Friday the 13th.
Of course, fans will recall what happened to Kevin Bacon's character in in Friday the 13th. As he's lying down on a bed, smoking a cigarette and relaxing, a hand comes around from underneath the bed and an arrow head comes through his neck. He was killed by Jason Voorhees' mother, Pamela Voorhees.
Since then, Kevin Bacon's appeared in a number of horror movies, including Tremors, Flatliners, Stir of Echoes and Hollow Man. Stir of Echoes was also written and directed by David Koepp, and is about a father who can see dead people. Unfortunately for that movie, it came out shortly after The Sixth Sense, and considering the relatively similar plots, it failed miserably at the box office.
Now, years later, David Koepp and Kevin Bacon are at it again with a Blumhouse-produced horror movie in You Should Have Left. From the trailer, it looks like this horror movie is a by-the-numbers haunted house feature, involving a family escaping to a secluded house and slowly being driven crazy by, you know, room measurements that are off.
You Should Have Left is set to release June 18 on VOD. Oddly, while most directors desperately want their movies to be seen in theaters, director David Koepp said he thinks this one wasn't destined to be in the theater and seems perfectly happy with that. Hey, whatever floats your boat.
Your Daily Blend of Entertainment News
Thank you for signing up to CinemaBlend. You will receive a verification email shortly.
There was a problem. Please refresh the page and try again.