How Lena Dunham Influenced The King Of Staten Island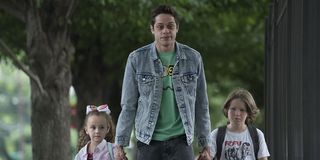 Judd Apatow has been in show business for a long time. From his cult classic TV show Freaks and Geeks to his latest movie The King of Staten Island, he's made a name for himself crafting silly comedy with real stakes and grounded dramas with clever humor. But that doesn't mean he hasn't taken influence from once up-and-comers, like Lena Dunham.
Judd Apatow recently broke down his career on Vanity Fair's YouTube page. When they reached the Girls part of his resume, he said before then he'd never heard of Lena Dunham until someone gave him a DVD of Tiny Furniture, an independent film Lena Dunham wrote, directed, and starred in. Here's what he had to say about how Lena Dunham influenced The King of Staten Island:
That's high praise. I can definitely see a connection and kinship between Judd Apatow and Lena Dunham's writing. For those that don't know, Lena Dunham's work on Tiny Furniture received glowing reviews upon its release. It eventually found its way on the prestigious Criterion Collection. She followed that up with creating HBO's Girls, which Judd Apatow was a producer on.
The King of Staten Island has plenty of the Judd Apatow trademarks. Starring Pete Davidson, it's a story about Scott, a young man still living with his mother and struggling with the loss of his father who died in a firefighter accident. He dreams of being a tattoo artist, but never really does anything about it. The theme of heroes being lost in their life situations crosses over quite a bit between Judd Apatow and Lena Dunham's work. What's more, the movie mirrors Davidson's real-life struggles-- a personal touch that mirrors Dunham's type of writing.
Of course, for his part, Judd Apatow has influenced other actors and filmmakers in their own work. Sometimes these things are small, like the time he had to give a funny note to actress Bel Powley on the set of The King of Staten Island.
Other times, he influences entire careers. Since Freaks and Geeks, he's been a longtime collaborator with Jason Segel. Judd Apatow gave Jason Segel the advice that the only way he's going to make it is if he keeps writing, which Jason Segel said changed the course of his life.
Being inspired by Lena Dunham's writing must not be steering Judd Apatow wrong as The King of Staten Island has been receiving mostly favorable reviews from critics. It's available now on VOD.
Your Daily Blend of Entertainment News
Thank you for signing up to CinemaBlend. You will receive a verification email shortly.
There was a problem. Please refresh the page and try again.