Sylvester Stallone Paid Tribute To His Celebrity Friends In The Best Possible Way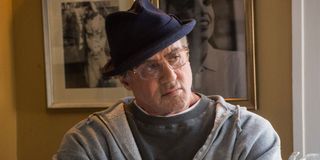 When you've been in Hollywood as long as Sylvester Stallone has, it's only natural that you'll pick up a few famous acquaintances. However, from the looks of a collection of photos he recently shared to pay tribute to his celebrity friends, Sly has managed to accumulate one of the most impressive social networks of all time.
Sylvester Stallone recently uploaded a slideshow of images to his official Instagram account. The caption was short and sweet - "GREAT FRIENDS!!!!" What really made the post so special was the incredibly diverse list of people that he was giving that distinction. The accompanying set of pictures showed the actor rubbing elbows with a variety of stars over the course of the last few decades, and they show a fun and sometimes sweet array of moments that were clearly special to the actor. Check out the amazing slideshow here:
The first photo shows him with country music icon (and his Rhinestone co-star) Dolly Parton, hamming it up with pipes in their mouths. The next shows him goofing around with his Expendables co-star Mel Gibson. After that, he treated fans to photos of himself with Michael Douglas and even Michael Caine. There's even a candid photo of him having a conversation with a (pre-Expendables) Antonio Banderas and Melanie Griffith.
One of the things that's really interesting about the photos Sylvester Stallone shared is that very few of them feature actors he's starred with in films. He shared an image of him and Goldie Hawn, as well as one with Mark Wahlberg and James Caan. There's an especially sweet candid photo of Elizabeth Taylor fixing Sylvester Stallone's boutonniere at the Cannes Film Festival. But he also showed that his circle of friends extends past his fellow Hollywood heavyweights.
There's a photo of the actor grinning alongside The Beatles' icon Paul McCartney. In another picture, the Rocky star is jokingly squaring off with Muhammad Ali. While many of the people in Sylvester Stallone's photos are still alive and well today, it's especially poignant to see the photos of those who've since passed on, like Muhammad Ali and Elizabeth Taylor. Without saying it in exact words, he seems to be saying that great friendships never truly end.
What's even more amazing is that this is just a handful of the friendships that Sylvester Stallone has formed over the years. Numerous fans in the comments to the post asked him where Arnold (Schwarzenneger, of course) was, for example. Maybe that just means he'll have to post a second round of memories with another group of famous friends. Even if he doesn't, it was kind of him to pay tribute to his friends in the way he did -- and give fans a glimpse into the wild ride he's enjoyed throughout his career thus far.
What's your favorite photo that Sylvester Stallone shared? Let us know in the comments!
Your Daily Blend of Entertainment News
Thank you for signing up to CinemaBlend. You will receive a verification email shortly.
There was a problem. Please refresh the page and try again.