Elizabeth Taylor Dies At Age 79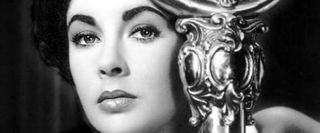 Elizabeth Taylor, the iconic actress, activist and Hollywood legend, has died at age 79, according to BBC News. She had been hospitalized several times in recent years for congestive heart failure and was admitted to a Los Angeles hospital in February for monitoring; congestive heart failure is listed as the official cause of death.
Her first screen appearance came when she was nine years old, and by age 12 she was a bona fide star thanks to National Velvet the saga of a girl and her beloved horse that became a massive hit. From there she went on to become one of the biggest stars the industry had ever known then or has since, a woman capable of leading both the era's most expensive and bloated movie, Cleopatra, and completely baring her soul in Who's Afraid Of Virginia Woolf, the film for which she won her second Oscar. She was nominated for that award four times in a row at the peak of her fame in the late 50s and early 60s, winning first for 1960's Butterfield 8. With her immense fame came scandal and rumor; Taylor was married eight times, twice to her frequent co-star Richard Burton, and even sparked rumors as recently as 2007 that she might be planning a ninth wedding.
Taylor's poor health in the last few years had kept her out of the spotlight, but when she turned 79 on February 27 her spokesperson released a statement announcing she'd be watching the Oscars ceremony from her hospital bed--the only imaginable thing to do for a Hollywood luminary of her status, whose passing certainly marks the end of an era.
Though her performances and her astonishing personal life have made up the bulk of her legacy and will be well-remembered in obituaries today, it's a trifle that I remember her for most clearly-- the White Diamonds perfume commercial that seemed to run on television daily my entire childhood in the 80s and 90s. It may seem like a callow way to remember an amazing woman, but its ubiquity speaks to Taylor's continued star power in her later years; she didn't star in a movie after 1980, but for decades after that, even children could immediately recognize Elizabeth Taylor.
There's a treasure trove of clips from Taylor's films and TV appearances on YouTube, of course, but it's impossible to miss her incredible beauty and charm in this clip of Taylor accepting her Best Actress trophy for Butterfield 8. Her speech is amazingly brief, but watch her big grin as she walks up to the podium-- that's a woman who is beloved and knows it. There's also this tribute, narrated by Paul Newman of all people, that pretty much says everything I'm trying to do here. Check it out and share your favorite links or memories in the comments.
Your Daily Blend of Entertainment News
Staff Writer at CinemaBlend