Why Spider-Man Writer David Koepp Isn't Currently Interested In Doing Another Superhero Movie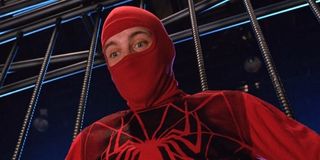 David Koepp certainly made a splash in the superhero genre when he penned the script for 2002's Spider-Man, so much so that fans still talk about the film. Unfortunately, Koepp hasn't done any other work in the genre since and doesn't seem to have any plans to do so. So why doesn't the accomplished screenwriter want to return to the world of superhuman beings? Well, he's now provided the answer.
David Koepp recently explained that while he wouldn't say that he'll never return to the superhero genre, he's not planning to anytime soon due to the intricate nature of superhero storytelling today. This is a landscape that's starkly different from the one he entered years ago:
During his chat with THR, he made a good point when noting the difference in what the superhero genre looks like now and what it looked like back in the early 2000s. During that time, superhero movies weren't as plentiful and were fairly straightforward in terms of storytelling. Today, Hollywood is experiencing a surplus of comic book movies, and the cinematic universes from Marvel Studios and DC Entertainment have allowed the storytelling to become a bit more nuanced.
It goes without saying that David Koepp's Spider-Man screenplay helped play a major role in ushering in the modern era of superhero films. Of course, the Superman and Batman franchises were already alive and well, and Marvel Entertainment had already produced Blade and X-Men features. But Sam Raimi's Spider-Man truly helped to redefine what was possible for superheroes on the big screen. With Spider-Man becoming a critical and financial success, you can also view it as Koepp leaving while he was still on top.
Despite not having ventured back into the superhero realm, Koepp has still made waves in other genres since. He notably penned the script for Steven Spielberg's Indiana Jones and the Kingdom of the Crystal Skull as well as Jack Ryan: Shadow Recruit and 2017's The Mummy. Most recently, he jumped into the horror genre with Kevin Bacon and Amanda Seyfried's You Should Have Left.
The superhero landscape has changed quite a bit since he's been gone, but David Koepp could still make some solid contributions if he does choose to re-enter the arena. Both Marvel and DC's cinematic universe are still growing and pulling in plenty of talent along the way. And one also has to consider the rise of niche superhero properties as well. So if Koepp wants another stab at a superhero, the opportunities are all there for him.
You can revisit David Koepp's Spider-Man by streaming it on Hulu.
Covering superheroes, sci-fi, comedy, and almost anything else in film and TV. I eat more pizza than the Teenage Mutant Ninja Turtles.