New The King's Man Trailer Features Explosions, A Mysterious Baddie And Suits, Of Course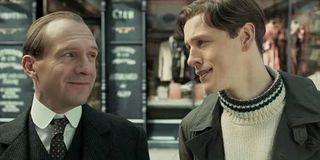 Moviegoers have been anxiously awaiting the release of The King's Man, the prequel to the fan-favorite Kingsman franchise, though the trailers have given them a glimpse of what to expect in the film. Now, a trailer has been released and it's teasing even more action, the film's mysterious antagonist and of course, some killer suits.
The King's Man is directed and co-written by Kingsman veteran Matthew Vaughn, and the period drama will focus on the Duke of Oxford, young protégé and their guild of allies, who attempt to prevent history's most infamous criminals from wiping out millions around the world. This trailer gives a better look at the team and provides more insight into the what the baddies have planned:
Fans of the Kingsman franchise undoubtedly know that it revolves around a secret spy organization that was formed during World War I and is named after the tailor shop that clothes its agents. The origins of the organization are all expected to be revealed in this prequel film, and it would appear that the club members may end up being the founding members of the storied group.
Action is something that's been emphasized in all of the trailers so far, but this one puts a lot of focus on the villains, specifically Daniel Brühl's Felix Yusupov and Rhys Ifans' Grigori Rasputin. Rasputin especially appears to be a formidable foe when it comes to hand-to-hand combat. And that scene in which he scowls at the table also shows just how much fun Ifans is having.
One of the most intriguing elements of the organization's origins is how crucial a role Harris Dickinson's Conrad will play in its formation. At this point, it's obvious that he shares a number of similarities to Taron Egerton's Eggsy, though Conrad seems to have much more discipline from the jump than Eggsy did. However, Egerton's character had a bit of an edge when he first started out, whereas Conrad appears to need training.
With this, one can also see the similar qualities that Ralph Fiennes' Duke of Oxford shares with Colin Firth's Harry. Like that character, the Duke definitely appears to have a fatherly bond with Conrad, which will likely become one of the focal points of the film.
In addition to the new trailer, a new poster has also been unveiled, and it puts Ralph Fiennes' Duke of Oxford and Dickinson's Conrad front and center, while also highlighting the rest of the cast. Check it out below:
All in all, fans should definitely get excited when seeing this new poster and footage. Not only does the action (and fashion) look great, but the story appears to be adding on to the Kingsman mythology in some unique ways.
The King's Man is slated to hit theaters on September 18.
Covering superheroes, sci-fi, comedy, and almost anything else in film and TV. I eat more pizza than the Teenage Mutant Ninja Turtles.
Your Daily Blend of Entertainment News
Thank you for signing up to CinemaBlend. You will receive a verification email shortly.
There was a problem. Please refresh the page and try again.