Looks Like The Matrix 4 Has Resumed Filming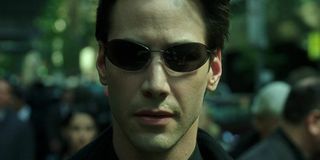 Like every other movie production around the world, The Matrix 4 had shut down production for a time due to global health concerns. This delay in filming caused a ripple effect and forced them to move the release date almost an entire year. But things are looking up, as it looks like The Matrix 4 has resumed filming.
That's right. Photos from TMZ have surfaced, showing Keanu Reeves, Carrie-Anne Moss and Neil Patrick Harris in Berlin on the set of The Matrix 4. In one photo, a long-haired, bearded Keanu Reeves is holding what looks like a shopping bag on set. All three actors are presumably headed to the trailers in each photo. In another photo, Keanu Reeves is laughing on set with a backwards baseball cap while standing next to girlfriend Alexandra Grant.
This is welcome, and somewhat surprising, news for fans of The Matrix. The last we heard, director Lana Wachowski planned to start filming again on July 6th. So, it's hard to say if they've started rolling the cameras or if they're prepping to do so soon. Either way, they're getting started over a week early, which is great for the generations of fans out there.
While it's not much of a surprise that Keanu Reeves and Carrie-Anne Moss would be on screen together in The Matrix 4, the addition of Neil Patrick Harris has raised some eyebrows and questions, specifically who his character is and what prominence he will play in the story. He's one of many newcomers joining the cast in the upcoming sequel.
As for the remaining cast, Lambert Wilson's The Merovingian will be returning. It was also reported Jada Pinkett Smith will return as her character Niobe, but it's unknown if Laurence Fishburne will return as Morpheus. Additionally, there were previous reports that the movie could feature a younger version of Morpheus and Neo.
Before shutting down, The Matrix 4 started production hot and heavy not long after their announcement that it would include Keanu Reeves. They were able to do some intense scenes in San Francisco, including low-flying helicopters and actual explosions that caused damage to city property. So, at least they were able to start filming with a bang before closing up shop.
Notably, The Matrix 4 isn't the only production resuming filming. The Batman, starring Robert Pattinson, has geared back up into production as well as Avatar 2. These sets are all outside of the United States, and must undergo rigorous safety procedures.
Originally, rumors of a new Matrix move swirled around the internet, and many thought it might be a full on reboot. To set the record straight, writer Zak Penn shot those rumors down on Twitter. The Matrix 4 won't be a remake or a reboot, but a continuation of the The Matrix trilogy.
It'll be interesting to see how The Matrix 4 develops as they resume filming. Hopefully, we'll get more definitive details on the story and the cast soon. Be sure to check back for the latest news.
Your Daily Blend of Entertainment News