Da 5 Bloods Scene Delroy Lindo Says People Are Really Identifying With On Netflix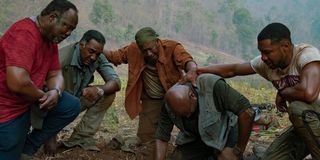 Spike Lee's Da 5 Bloods appears to be having a major effect on viewers, as many have formed personal connections with the critically acclaimed film. One character that's really left a mark on audiences is the frustrated and emotionally scarred Paul, who was played beautifully by Delroy Lindo. The veteran actor steals more than a few scenes throughout the movie, but he says its Paul's monologue in the jungle that has really grabbed people's attention:
The scene plays out bittersweet way, as it allows Paul to vent his frustrations with his current situation and confront his demons in the process. Delroy Lindo went on to explain to HuffPost that there's a complexity to monologues. While in many cases, characters are reciting the words alone, they're not exactly just posing their thoughts to themselves:
Delroy Lindo raises an interesting point about monologues, as many of them do involve a character posing questions. Paul's "Salt in the Vaseline" monologue in Da 5 Bloods is distinct in the fact that the character holds his focus on the camera the entire time. And based on his constant questions and anxious attitude, the scene can definitely be read as Paul desperately seeking out answers from someone.
However you want to interpret the scene, it can definitely be said that Delroy Lindo nailed it. Those who've seen Da 5 Bloods know that Paul could have been a one-note character in the wrong hands, but both Lindo and Spike Lee strayed away from this and turned him into a fleshed-out character. With this, it's no wonder the internet is already calling for Lindo to get some major recognition when awards season arrives.
Regardless of how much buzz Lindo receives, Da 5 Bloods marks another powerful performance from him, and it's sure to sit with audiences for years to come.
Spike Lee's Da 5 Bloods is currently streaming on Netflix.
Covering superheroes, sci-fi, comedy, and almost anything else in film and TV. I eat more pizza than the Teenage Mutant Ninja Turtles.
Your Daily Blend of Entertainment News
Thank you for signing up to CinemaBlend. You will receive a verification email shortly.
There was a problem. Please refresh the page and try again.