Paul Rudd Was Super Nervous During Captain America: Civil War, But He Used It To His Advantage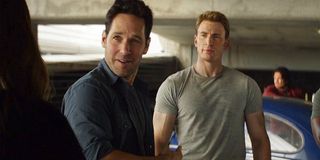 Back before Captain America: Civil War released, Paul Rudd was a relative newcomer to the MCU and hadn't met the franchise's regulars, like Chris Evans. So needless to say that he was super nervous on the Civil War set, but instead of shying away, he used that feeling to his advantage.
Recently, Chris Evans and Paul Rudd interviewed each other via video call on Variety's segment Actors on Actors. As would be expected, the conversation shifted to talking about their experience on Captain America: Civil War. They first met on the scene where the car was parked in the Leipzig/Halle airport. Here's what Paul Rudd had to say about being nervous that day:
It's a little surprising that anti-aging Paul Rudd would feel starstruck by Chris Evans. It's easy to forget they aren't all friends that hang out on a regular basis. Many of them could actually be perfect strangers. After comparing the Marvel suit locker room to a Super Bowl-winning football team, I kind of hope they parody that somehow in a future movie.
If you recall, Ant-Man released in July 2015, a little under a full year before Captain America: Civil War. Paul Rudd and Anthony Mackie had a brief interaction in Ant-Man, but that was the extent of his connection to the other actors. Since then, however, his overall role in the MCU has grown significantly.
Now that Avengers: Endgame is behind us, with Chris Evans as Captain America saying goodbye, the question before us is what role will Ant-Man play in the future of the MCU?
Kevin Feige has been fairly cryptic about Ant-Man's future role. We do know that Ant-Man 3 is officially happening and that the cast and crew expect to start filming early 2021. But how that all fits into the large scope of things is anyone's guess.
The threequel will be directed by Peyton Reed and will also be Paul Rudd's fifth time playing the titular character. Now, with so much experience under his belt as the size-shifting hero, it's likely some other newcomer will be nervous to meet him rather than the other way around. Be sure to check back for more news on your favorite Marvel superheroes.
Your Daily Blend of Entertainment News
Thank you for signing up to CinemaBlend. You will receive a verification email shortly.
There was a problem. Please refresh the page and try again.