Why Mulan Could Be Disney's Most Important Live-Action Remake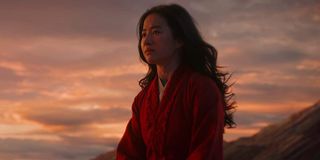 (Image credit: (Disney))
In just one month, Disney's live-action Mulan is expected to be the first tentpole film to hit multiplexes after a long drought for the movie theater business. Our first trip back to theaters should theoretically come with the force of a great typhoon and strength of a raging fire, but the reality is the moviegoing experience is going to be a cautious one for some time. Mulan could very well turn into a test subject for Hollywood's return to the big screen, as well as be the most vital remake for Disney's future with live-action.
If the July 24 release date sticks, there's a lot of weight being placed on Mulan the studio didn't necessarily sign up for. Christopher Nolan's Tenet was set to be the first blockbuster for audiences to return to, until Warner Bros delayed it to come out the week after Mulan. Now the Disney flick is in an uncomfortable position. Does it move again or stay its ground? Either way, I hope Mulan gets a real chance at the big screen because this is exactly the kind of Disney film that should succeed for the studio. Let's talk about why Mulan is such a vital part of the House of Mouse's 2020 theatrical calendar.
Mulan Is The First Follow Up To Disney's Big 2019 Of Remakes
2019 was a massive year for Disney in general because it put out three remakes: The Lion King, Dumbo and Aladdin. As we head into Mulan's box office run, are audiences coming off the weariness of seeing so many new versions of animated classics last year, or will Mulan be considered a worthy successor? The good news is Niki Caro's film completely challenges what The Lion King presented audiences with last year. It's not a musical, it features a fairly unrecognizable lead and it has made key changes to its story – such as scene-stealer Mushu being nowhere to be found. It will be interesting to see if audiences are ready for change or programmed for more nostalgic remakes.
Last summer, the big winner of the box office season (besides Avengers: Endgame) was Jon Favreau's The Lion King, a complete rehash of the animated classic featuring the same songs, lines and even particular shots from the 1994 original. At its worldwide gross of $1.6 billion, the movie became the highest-grossing Disney live-action remake so far, behind the $1.2 billion success of another incredibly true-to-the-original rehash, 2017's Beauty and the Beast. Mulan is unfortunately coming off these expectations from Disney in much different conditions.
Mulan Could Be A Worthy Challenge Of Streaming Versus Theaters
Mulan is in a unique spot as the first big movie in theaters too because on the surface, it's not the most original film for audiences to first venture back to theaters. That's why a movie like Tenet has been an attractive title to "save" cinema with Christopher Nolan's innovative script, set pieces and global scale. Not to mention this is the first time a Disney remake is hitting theaters after the launch of the streaming service Disney+. Chances are most fans have the platform and can readily revisit the '90s Mulan instead of leaving their homes. Also, word on the street is the live-action remake is already set to hit the service in October, though obviously that could change down the line.
So comes the test. Will Mulan reflect a growing preference for streaming, especially since it's a familiar name with a prior film, or will its experience bring fans in either way? The week after its release, the film has hefty competition with Tenet, but as far drawing in family audiences, Mulan could carve out its own success in theaters with its July release date and provide something completely new for fans as it has promised in its marketing.
Mulan Is An Underdog Among Disney Remakes
Niki Caro's version of Mulan is unlike any other Disney remake because it will transform a Disney Princess musical to a full-fledged action epic. The film is set in China, features sword fights and old school horseback battles, and is the first of the remakes to be PG-13. It has a particular big-budget Hollywood quality to it that the previous remakes have gone for, but has been bogged down by attempts to copycat the animated version. And truthfully, leading up to the original release of Mulan, the movie has received early criticism from fans for taking a new route with the material – just because it doesn't feature characters breaking out into song or a talking dragon.
What's exciting about Mulan is the tale has a shelf life that begins much earlier than Disney's animation ties to it, and this remake could give the name a much more culturally appropriate version that could offer a valuable message about the reality of war through the lens of a female protagonist and to mainstream audiences. The struggle Mulan faces now is it's been four months since it was originally going to come out. Marketing has pretty much ceased to exist and it hype seems to have died down.
How Mulan's Success Or Failure Could Inspire Future Disney Films
With all the boundaries Mulan is pushing, what if it doesn't do well? The film has the bad luck of opening at a time when U.S. COVID-19 cases are on the rise and its audience in China are also facing a resurgence in cases. The effect of the times will clearly be an influence on the film's release and already has. But it would be a shame for the $200 million budget action flick to suffer a flop when its success could send a greater message to the studio to invest in more challenging retellings of its material.
When Jon Favreau's The Jungle Book hit the jackpot, it directly affected the making of The Lion King and Beauty and the Beast's approach, and later big earnings influenced more close retellings as well. Mulan could be similarly influential in perhaps making the Russos' Hercules live-action a more original take on the material. What do you think? Are you still excited for Mulan and are you rooting for its success? Vote in our poll below!
Mulan hits theaters on July 24 and check out what else is hitting theaters in 2020 with CinemaBlend's release calendar.
This poll is no longer available.
YA genre tribute. Horror May Queen. Word webslinger. All her writing should be read in Sarah Connor's Terminator 2 voice over.
Your Daily Blend of Entertainment News
Thank you for signing up to CinemaBlend. You will receive a verification email shortly.
There was a problem. Please refresh the page and try again.