One Thing That Crops Up When You Work On Both Dune And Star Wars, According To A Guy Who Did Both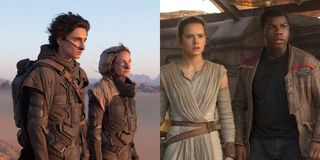 Dune and Star Wars are both undeniably sci-fi classics. They've also both enjoyed a recent resurgence in pop culture -- especially Dune, with a new adaptation of the film hitting theaters this winter. Parallels between the two series have been drawn before -- but according to someone who worked on both projects, there's at least one thing that both definitely have in common.
Denis Villeneuve's Dune looks to fully embody the sci-fi elements of Frank Herbert's classic book series and set itself apart from the ill-fated first cinematic adaptation. Since Greig Fraser has some experience bringing epic sci-fi stories to life, it's understandable why Dennis Villeneuve would hire him to help make his vision a reality. The DP has also worked on multiple projects for the Star Wars franchise -- Rogue One, and more recently, three episodes of The Mandalorian.
So Greig Fraser had a unique perspective to share when he was on the Dune set. According to him, while there are a lot of differences in the two universes, there is at least one thing he encountered in both:
These comments to Collider may sound flippant but, given that his job is to make sure everything looks good on camera and it's probably a little bit challenging to film on something as monochrome as sand, he's actually made a really interesting point there. Greig Fraser also hypothesized that there's an even bigger connection between Star Wars and Dune than his role in both films:
Greig Fraser isn't the first person to note that it's likely George Lucas took inspiration from Dune. Though the original Dune film was released in 1984, years after the Star Wars series began, the book series came out in the 1960s. Regardless of how deep the throughline between the two series runs, it's clear that Greig Fraser had a blast working on both.
Dune is currently due to hit theaters on December 18, 2020. Are you excited to see Denis Villeneuve's adaptation? Let us know in the comments!
Your Daily Blend of Entertainment News
Thank you for signing up to CinemaBlend. You will receive a verification email shortly.
There was a problem. Please refresh the page and try again.