Someone Combined Timothee Chalamet In Dune With Star Wars' Kylo Ren, And I Can't Look Away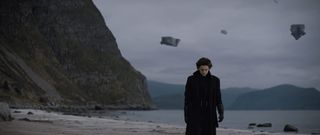 Unless you've been living under a rock, you likely have seen the latest Dune photos that have been swirling around the internet. The first photo that landed was a dark and brooding Timothee Chalamet, playing Paul Atreides, wearing all black, standing on a beach. It doesn't take much to notice the similarities to Kylo Ren.
Well, someone noticed the same thing and decided to photoshop Kylo Ren's red lightsaber on to the Dune photo with Timothee Chalamet. And, wow, I seriously can't look away from it. It's a striking look from BossLogic. Here's the photo:
Many online have pointed out the similarities between how Dune looks compared to Star Wars, so the connections aren't as far apart as you might think. Greig Fraser, the cinematographer working on Dune, also shot the cinematography on Rogue One: A Star Wars Story. With darker colors and low saturation, it's easy to see the similarities in style here. Greig Fraser's moody aesthetic will also be put to use on The Batman as well.
Timothee Chalamet's character also has similarities to Kylo Ren's journey. He's living in the shadow of his father, thinking he'll become a great general before being taken on a different road altogether. Chalamet said that the character of Paul Atreides attracted him the most to taking on the project, which has been pretty buzzy as it has come together at Warner Bros.
This image isn't the only one that's been released, either. Shortly after this photo landed, a slew of new photos were also put out into the universe, giving us a first-look at the star-studded cast, including Oscar Isaac, Josh Brolin, and Dave Bautista, and more.
One photo that's got the internet going crazy is a look at Oscar Isaac, playing the role of Duke Leto, the father of Paul Atreides. Oscar Isaac's strong, piercing, almost disapproving, glare makes me want to sit down and question everything I believe. Plus, that beard should probably win its own award for something.
Dune is directed by Denis Villenueve, who has done a good job of flying under the radar while masterfully directing science fiction films like Blade Runner 2049 and Arrival. While neither became box office smash hits, both were received well by critics.
Early in August, it was announce Dune's release date would be pushed back from November 20, 2020 to December 18, 2020. As of now, there hasn't been an announcement that this has changed, but the movie release date schedule is ever-evolving right now.
While Dune may have some similarities to Star Wars, my guess is that it'll stand on its own as a unique experience. Given Denis Villenueve's track record, I think this could be another incredible science fiction movie in the making. Now, I'm just hungry to see the trailer.
Your Daily Blend of Entertainment News