Michael B. Jordan's Next Film Just Landed A New Release Date Following Delays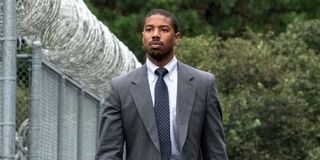 Michael B. Jordan's newest movie has joined the long list of films we're going to have to wait a little longer to see this year. Ongoing concerns about COVID-19 have caused most Hollywood studios to delay summer release dates, which has caused a ripple effect. Now, Without Remorse is the latest film to feel that impact.
Originally scheduled for release on October 2, the thriller has now been pushed all the way back to February 26, 2021, according to Variety. It's reasonable to assume that MGM has done this to avoid major competition during Without Remorse's opening weekend -- Wonder Woman 1984 has been moved to its original release date, October 2, its second re-scheduling since COVID-19 hit earlier this year.
Without Remorse is one of many films that have had release dates shifted this week. Earlier, Disney announced it moved Mulan from July to August. Warner Bros. also moved Tenet's premiere back -- again -- to August 12.
That move caused MGM to delay Bill & Ted Face The Music to August 28 to avoid competing with Christopher Nolan's latest movie, which many view as a symbol of sorts for going back to the movies. With so many moving pieces right now and so much that's still unknown about COVID-19's long-term effects on our day to day lives, no one can even say if these dates are concrete yet or not.
If studios have to start pushing fall releases back, that could definitely have an impact on movies like Without Remorse. All of these delays have a bit of a domino effect -- if the huge tentpole movies get pushed into 2021, we can definitely expect other films to feel the effect. After all, it just doesn't make sense to crowd release dates for the foreseeable future.
Michael B. Jordan's last movie to hit theaters, Just Mercy, was released on Christmas Day, a few months before movie theaters around the country began to shut down to help slow the spread of the pandemic. 2018 was such a huge year for him that we all got pretty used to seeing him on movie marquees. So it would be strange to go a whole year without his face on the big screen at least once. But of course, he's far from the only actor whose projects have been impacted by COVID-19.
Without Remorse is based on Tom Clancy's 1993 book of the same name. It's about a Navy SEAL who finds a frightening conspiracy when he attempts to avenge his wife's murder. In addition to Michael B. Jordan, it also stars Jamie Bell, Jodie Turner-Smith and Luke Mitchell. It was directed by Stefano Sollima and written by Taylor Sheridan. Michael B. Jordan also serves as a producer on the film.
Your Daily Blend of Entertainment News
Thank you for signing up to CinemaBlend. You will receive a verification email shortly.
There was a problem. Please refresh the page and try again.