Samuel L. Jackson's Quentin Tarantino Characters, Ranked By Badassness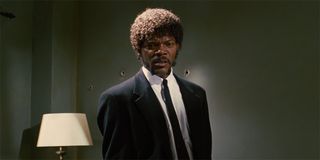 Cinema history is filled with brilliant director/actor team-ups, from Martin Scorsese and Robert De Niro to Alfred Hitchcock and James Stewart, and one of the truly great contemporary examples is Quentin Tarantino and Samuel L. Jackson. The two first came together in the early 1990s, and the relationship has been fruitful from the get-go, as Jackson earned his one and only Academy Award nomination from the collaboration, while Tarantino won the award for Best Original Screenplay. They have been close ever since, collaborating on a total of six different features over the years out of the writer/director's nine total.
Each time the two men get together the result is memorable magic – but how do those performances and characters stack up against one another? Using "Badassness" as a yardstick, we set out to answer that very question, and what you'll find below are our results. From Pulp Fiction to The Hateful Eight, here is how we rank the work of Samuel L. Jackson and Quentin Tarantino's in their time together.
6. Stephen (Django Unchained)
One would imagine that most of you would agree that "badassness" makes for a fine metric when it comes to judging Samuel L. Jackson's Quentin Tarantino characters, but that means that the first role discussed is the one who isn't badass in the slightest. While Tarantino generally casts Jackson as cool guys who have the capacity to turn real mean, Stephen in Django Unchained is a messed up piece of work. The man is a life-long slave who chooses to sympathize with his captor instead of his fellow captives, and he goes to some horrible lengths to help his sadistic master. Watching the movie you can't help but really hate Stephen, and while means that Jackson very much does his job with his performance, it also means that he is ranked last on this list.
5. Narrator (Inglourious Basterds)
That's right: Django Unchained's Stephen is such a noxious characters that we've even ranked him behind Samuel L. Jackson's only incorporeal role in a Quentin Tarantino movie – which is his part as the narrator in Inglourious Basterds. It's not a big role, but it's certainly a notable one, as Tarantino has Jackson tell the audience the legend of Til Schweiger's Hugo Stiglitz, a German Nazi hunter who is recruited by the titular group in the midst of their European mission. The role not being a fully-formed individual, there's not a great deal that we can say about the "performance," but what is undeniable is that Jackson's voice is iconic and badass in its own right, which is enough to qualify it for inclusion on this list instead of just being skipped. It's frankly too bad that Tarantino doesn't have Tarantino do more voiceover work when he doesn't have a role for Jackson carved out, like with Death Proof and Once Upon A Time In Hollywood.
4. Ordell Robbie (Jackie Brown)
Badassness is always easier to appreciate when its being wielded by a protagonist instead of an antagonist, so as we move to the middle of this list it's time to give the spotlight to Samuel L. Jackson's other great heel turn in a Quentin Tarantino film: Ordell Robbie from Jackie Brown. Ordell certainly isn't the smartest character on this list, as he is consistently outfoxed in the film by Pam Grier's eponymous heroine, but the guy gets respect for his hustle as he works to achieve the millionaire lifestyle through the illegal arms trade. As demonstrated through his relationship with Robert De Niro's Louis, he can be a chill guy and cool to hang out with, but he can also be a scary dude when things don't go his way, and that energy goes a long was in making the third act of Jackie Brown one of Tarantino's most thrilling.
3. Rufus (Kill Bill)
Like the aforementioned Narrator, Rufus in Kill Bill isn't exactly the biggest part played by Samuel L. Jackson in a Quentin Tarantino film, but the character leaves a lasting impression as a result of his metaphorical wheelbarrow full of badassness. Appearing at the start of Vol. 2, he is the piano player at the church where Uma Thurman's Beatrix Kiddo plans on getting married, and he's a guy with the capacity to capture the attention of every single person in the room whenever he speaks. At the end of the day we don't get to know much about him personally, and he ultimately meets a grisly end courtesy of Bill and the Deadly Viper Assassination Squad, but he's still not a guy you quickly forget, and that earns him a high rank on this list. Simply put, he's the man.
2. Major Marquis Warren (The Hateful Eight)
With The Hateful Eight, Quentin Tarantino had the idea to tell a story by taking a selection of some of the best actors working today and jamming them together in a small haberdashery during a blizzard – and yet Samuel L. Jackson still walks away from the project having delivered the film's most memorable performance as revenge-seeking bounty hunter Major Marquis Warren. The character fascinates from the very start, seated upon a stack of dead bodies in the cold while waiting for a ride, and he's consistently crafty enough to keep you perpetually smiling from ear-to-ear as he spins yarns about his Lincoln letter and a notable Confederate soldier who tried to take him out. Warren is a pure blood badass and one of the key inspirations for this list, and would be number one if not for one of Tarantino's most iconic protagonists.
1. Jules Winnfield (Pulp Fiction)
You probably could have predicted from the beginning that Jules Winnfield from Pulp Fiction would top this list, as, frankly, the character could justifiably rank as one of the great badasses in cinema history – not needing either "Samuel L. Jackson performances" or "Quentin Tarantino movies" as qualifiers. Far more than just a hitman trope, Jules is a guy who sees the world for all of its vivid colors and various shades, made curious by the mysteries of the universe and looking for its deeper meanings as his life is miraculously spared during what should be an ordinary job. Even given the non-linear, anthology-esque structure of the story, he still winds up having a powerful arc in the film, going from assassin to philosopher as he starts to understand the depths of existence, and it's an epic journey to follow that's made ever delightful having a total badass at the center of it.
What's your favorite Samuel L. Jackson performance in a Quentin Tarantino film? Do you agree with our rankings, or would you put them in a different order? Answer our poll, hit the comments section with all of your thoughts, feelings, and opinions, and stay tuned here on CinemaBlend for all of the latest updates and news about Jackson and Tarantino's upcoming projects.
This poll is no longer available.
Your Daily Blend of Entertainment News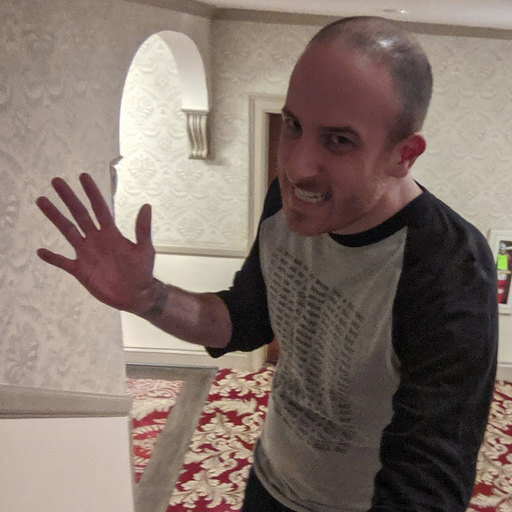 Assistant Managing Editor
NJ native who calls LA home and lives in a Dreamatorium. A decade-plus CinemaBlend veteran who is endlessly enthusiastic about the career he's dreamt of since seventh grade.