Little Women: 10 Fascinating Facts About The Making Of Greta Gerwig's Adaptation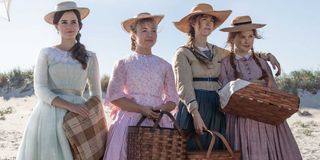 Throughout the past century-plus, there have been hundreds — if not thousands — of different stage and screen adaptations of Louise May Alcott's timeless 1868 novel, Little Women. Each one brings a different perspective to the material. Though, by many people's estimations, writer/director Greta Gerwig's new 2019 film stands out as one of the best translations from page to screen we've gotten to date. It's easy to see why. Through its warm presentation, finely-nuanced storytelling, sparkling performances, and stunning attention-to-detail, Gerwig's movie brought a lot of new life to the well-worn book, providing a personal and poignant take on the classic coming-of-age story.
There are many great details and tidbits to be mined from the making of this acclaimed movie. We're here to offer just a mere few. Here are some great behind-the-scenes facts about Greta Gerwig's Little Women that we believe every fan should know!
Saoirse Ronan Cast Herself As Jo March
Persistence — or, perhaps, insistence — can be an admirable trait. Confidence and determination are the keys to getting any job. Though, when it comes to Saoirse Ronan being cast in Greta Gerwig's Little Women, it helps to know people. The actress and filmmaker previously worked together on 2017's Lady Bird, Gerwig's solo directorial debut (she previously co-helmed 2008's Nights and Weekends with Joe Swanberg), and that worked out quite well for both of them. Gerwig was hailed as a great early filmmaker, earning Best Director and Best Original Screenplay Oscar nominations, while Ronan received her third Oscar nomination for her extraordinary performance.
Therefore, it was the duo's best interest to keep working together. That's why Saoirse Ronan summoned up Jo-level confidence to tell Greta Gerwig that she was playing the part. Here's how Gerwig describes Ronan casting herself in the lead role:
Likewise, a similar thing happened with Meryl Streep. When words spread that Greta Gerwig was directing Sony's newest Little Women adaptation, Streep made a point to reach out to the writer/director and politely insist that she play a part in the proceedings. It's certainly not a hard choice to decide whether or not you want the three-time Oscar winner in your movie.
Greta Gerwig Fought Hard To Direct Little Women
Following the critical/commercial success of Lady Bird, one hopes that Greta Gerwig had tons of opportunities made available to her. It was apparent that she was a seasoned filmmaker right out of the gate, one capable of balancing tones and capturing great performances and a rich sense of setting, which would serve as a fine launching pad to an incredible filmmaking career. As Sony tried getting the ball rolling on a new Little Women, one would think the producers would seek out Gerwig for this new film. But according to Gerwig, she had to fight hard to get her version of Little Women made. It was a book Gerwig claims made her want to be a writer and director, though she wasn't originally on "anybody's list to direct this film."
They Shot A Scene In The Schoolhouse Where Louisa May Alcott's Father Taught
There's an authenticity to Greta Gerwig's Little Women that stands out compared to some cinematic interpretations. While past film adaptations have their own virtues, notably 1994's beloved version starring Winona Ryder, there's a meaningful sense of realism, an emotional honesty, and a semi-autobiographical touch, as noted by Vanity Fair's first-look preview, that makes this film become more resonate and timely in addition to timeless. While there are myriad ways in which this warm feeling was realized, one key aspect was setting. It was shot entirely on location in Concord, MA, which is where the book takes place. The location scouts also found a few notable backdrops that were true to the time period. For instance, they were able to shoot a scene in the schoolhouse where Alcott's father, Bronson, taught, which is not open to the public.
Greta Gerwig Was Secretly Pregnant As She Directed Little Women
Think it's tough to direct a movie? Try doing it while you're also pregnant with your first child. There's no doubt that Greta Gerwig is an immensely talented rising director, established beyond her years and only continuing to prove herself. But it's even more impressive to know that while she was intensely making her solo sophomore feature, she was secretly pregnant. Directing is such a time-consuming process, fully engulfing your immediate attention and focus, that it's hard to know how filmmakers can find time for themselves — let alone their unborn child! Yet, Gerwig found a way to do it. Even the cast was reportedly kept in the dark. Gerwig was six months pregnant when production wrapped and she went into labor just 24 hours after delivering her rough cut. What an incredible woman!
In An Ironic Turn Of Events, The Entire Cast Got Strep Throat
The most devastating moment in Little Women, both the book and film, is the discovery that Beth developed scarlet fever, which ultimately takes her life. It's a somber development that indirectly leads to Jo March writing her first completed novel, based on her personal history with her sisters. But in a crude bit of irony, the whole cast of Little Women caught strep throat during filming. Strep throat, it should be noted, is the predecessor to scarlet fever. This dark symmetry is the sort you thing you simply can't write. As Greta Gerwig joked in an interview, they took meta acting to the max here.
Florence Pugh And Saoirse Ronan Wrestled Each Other Before Shooting Angry Scenes
Every actor has their methods for getting into character. Some of them are more intense than others, but the results are typically presented on the screen — for good or ill. When it comes to Florence Pugh and Saoirse Ronan, their process of getting intensely, viciously angry at each other for a few key scenes in Little Women required exerting some physical aggression. Specifically, the Oscar-nominated actresses would wrestle to capture the physical as well as the emotional intensity of their given scenes, allowing the hostility shared between their sibling characters to appear both honest and real. This sort of behavior wouldn't seem uncommon for young siblings, and that added to the sincerity of their sister dynamic in these moments.
Each Period Dress Took 40 Hours To Create
In order to meticulously recreate the look of the late 1800s, lots of meticulous work needed to be done — naturally. When it comes to Little Women (2019), there were 75 principal period costumes made, and each one took reportedly 40 hours to create. Additionally, lots of attention was placed into the costumes' color schemes. Each sister got their own color(s). Specifically, green and lavender for Meg, brown and pink for Beth, red and indigo for Jo, and light blue for Amy.
Florence Pugh Shot Little Women Immediately After Midsommar, Called It "Therapy"
Though the best actors make it look easy, the truth of the matter is that acting is a brutally intensive job, requiring you to slip out a fine stream of emotions at a moment's notice, time-and-time again. Florence Pugh has proven to be a gifted performer. She has demonstrated that to audiences several times over the course of the past couple of years — though 2019 was a particularly standout year for the bright, talented Oscar-nominated actress. She starred in Midsommar and Little Women, which is a hell of a feat, especially when you discover that she filmed these movies literally back-to-back. As she revealed in an interview, she went from one set to the other after only a couple of days. That's quite the emotional upheaval. Pugh described making Little Women as "therapy" after shooting this intense A24 horror film.
Greta Gerwig Wanted The Score To Be A Mix Of Mozart And Bowie
A movie's score plays a crucial, sometimes overlooked factor in a movie's success or failure. For as good as Jaws is on its own, for instance, can you imagine what it'd be like without John Williams' iconic theme? Or what Star Wars would be without those opening notes? Not to list two examples from the same composer, but the point stands. Though a score doesn't play a role in the film's visuals, it does inform them, bringing out the fluttering of feelings, thoughts, and emotions our characters feel. The best scores are crafted from a healthy collaboration between the director and the composer. If they can come to an understanding, they can do wonders. When it comes to 2019's Little Women, Alexander Desplat reveals Gerwig wanted a score that was a mix of Mozart and David Bowie.
Emma Watson Found Greta Gerwig's Directing Style 'Such A Relief'
Every director has a different style and a different relationship with their actors. As an actress in the mumblecore scene (and a few mainstream releases) prior to her second career as a bright rising filmmaker, Greta Gerwig is sensitive and in-tune with her actors, and she wants to make sure they get what they want in any given scene. As Emma Watson said in a behind-the-scenes video, this conversational style was "such a relief" to the former child star.
There are a few more facts we didn't get to mention, including how Amy's feminist monologue was literally a last-minute addition inspired by a conversation with Meryl Streep, the accidental inclusion of water bottles, and how Greta Gerwig and Saoirse Ronan each kept bound copies of Little Women published in the final scene, but that's just a credit to how dense and complete this awards-favorite adaptation was. Do you know some more fun facts about Little Women? Let us know in the comment section!
Your Daily Blend of Entertainment News
Will is an entertainment writer based in Pittsburgh, PA. His writing can also be found in The Playlist, Cut Print Film, We Got This Covered, The Young Folks, Slate and other outlets. He also co-hosts the weekly film/TV podcast Cinemaholics with Jon Negroni and he likes to think he's a professional Garfield enthusiast.