The 8 Best Winona Ryder Movies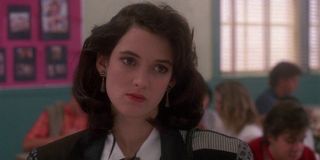 In a varied, versatile and accomplished decades-spanning career, Winona Ryder has proven herself in a wealth of different films — both big and small. While the actress is currently celebrating a career resurgence with the incredible commercial success of Netflix's Stranger Things, the truth of the matter is that Winona Ryder has always been great, even if she wasn't always recognized for her commendable acting capabilities. Nevertheless, we wanted to take a moment to recognize the movies that have showcased Winona Ryder's strong suits throughout a longstanding Hollywood career.
Now, before we get ahead of ourselves, there are a few movies that should be mentioned that aren't included in this list. It's safe to say that Mr. Deeds is a personal favorite for many folks, though I'd be hard-pressed to call it one of her best films. Also, while I love Frankenweenie and I really enjoy Star Trek (2009), it would be odd — to say the least — to call them "Winona Ryder movies." Also, there's The Crucible, which didn't quite make it, but may be someone else's favorite!
With that said, without further ado, here are some of Winona Ryder's best movies to date!
A Scanner Darkly
Richard Linklater finally reunited Keanu Reeves and Winona Ryder on the big screen again a little over a decade after they first made an indelible impression together in 1992's Bram Stoker's Dracula with his trippy, thoughtful and moody 2006 animated adaptation of Philip K Dick's A Scanner Darkly. The film itself is at once visually stimulating and thoughtfully composed, allowing the viewers to get into the dazed, dark (hence, the film's title) perception of its characters. But beyond the striking look of the film, what often makes it resonate is the relationship our main character, Bob Arctor (Reeves), forms with Donna Hawthorne, played by Winona Ryder.
It's evident that A Scanner Darkly is bleak, and few —if any — characters make it out of the movie well. Yet it's Winona Ryder's character who gets taken through a particularly dark and heartbreaking turn of events, and it's through the well-established chemistry she shares with Keanu Reeves that her relationship with her co-star is as romantic as it is devastating. It's certainly not a comfortable watch at times, but Ryder does make the most of her appearance.
Girl, Interrupted
An adaptation of the best-selling memoir of the same name by Susanna Kaysen, Girl, Interrupted was a major highlight of Winona Ryder's career. While the film is often remembered more for Angelina Jolie's Oscar-winning supporting turn, it is Ryder's sensitive, introspective performance that we follow throughout the film, and she plays a big component in the film's dramatic investment. While Ryder had proven her comedic talents in several different projects prior to this 1999 film, this drama was a showcase for Winona Ryder's dramatic talents in a lead role, and how she could evolve beyond genre films.
Winona Ryder plays Susanna, an 18-year-old who is checked into a psychiatric hospital where she eventually befriends a variety of mentally-ill patients, including Lisa (Angelina Jolie), who tries to convince her to escape. The film is filled with pathos and heightened moments, and while Girl, Interrupted has ultimately received mixed reviews, the performances are often quickly and fondly remembered. This is definitely a role of Ryder's to celebrate.
The Age of Innocence
It's hard to go wrong with Martin Scorsese. While The Age of Innocence doesn't get as much notice as some of the director's other titles from the '90s, including Goodfellas, Casino and Cape Fear, to name a few of his titles, it definitely deserves to be recognized. The 19th-century New York romance is notably a gentler movie than a lot of other Martin Scorsese titles, as its title would ultimately suggest, but it's a ravishing and captivating tale of love and loss that is benefitted from its esteemed performers, including Daniel Day-Lewis and Winona Ryder, who would also go on to star in The Crucible a few years later.
As May Welland, Winona Ryder captures the innocence (as the title would suggest) and benevolence of the character, and she also plays a bit role in the film's dramatic stakes as her fiancé, Newland Archer (Daniel Day-Lewis) begins to fancy her cousin, the American heiress Countess Ellen Olenska (Michelle Pfeiffer). As love begins to bloom between Newland and the Countess, heartbreak is soon in store for May. And Winona Ryder gives a beautiful performance in the film. This performance is especially noteworthy for garnering Winona Ryder her first Oscar nomination for Best Supporting Actress. And it continued to propel her career as a dramatic and award-recognized actress.
5. Little Women
It's never easy to adapt Louisa May Alcott's timeless classic novel Little Women onto the big screen. While there have been several adaptations in the past, only a few have really made it count. That includes Gillian Armstrong's adored 1994 adaptation, which is benefitted enormously by its winning, charming cast of future superstars, including Kirsten Dunst, Claire Danes, and Christian Bale in some of their earliest performances. Still, it's ultimately Winona Ryder who makes the best impression in this take on the 19th century tale.
As Josephine "Jo" March, the March sister who has aspirations of grandeur to become an author, a young Winona Ryder captures the wit and warmth of the character in equal measure, embodying the liveliness and sincerity that made the character come to life on the page. Particularly with literary adaptations, it can be hard to match the expectations that come into readers' heads. But despite the challenges faced with turning this book into a major motion picture, Winona Ryder helped immensely to turn it into a generation-spanning success for a wide array of audiences. It's no wonder the performance got Ryder her second Oscar nomination for the second year in a row. It'll be interesting to see how this fall's newest adaptation of the classic story from director Greta Gerwig (Lady Bird) will fare in comparison. But whether it's good or not-very-good, at least we have the comfort of knowing this '90s adaptation is nearby.
Edward Scissorhands
One could argue Edward Scissorhands is iultimately more of Johnny Depp's film than Winona Ryder's. One would probably be right. Nevertheless, Edward Scissorhands is another excellent showcase for the actress, and she has always proven herself in exceptionally good hands when she finds the opportunities to work with director Tim Burton. Reuniting with her Beetlejuice director, Ryder's character Kim Boggs is part of the movie's emotional core, and a key component to the film's atypical emotional resonance.
The movie is arguably the best we've ever gotten from Tim Burton, and it's certainly one that has battled for the number one spot in fans hearts throughout the years. That is often thanks to Winona Ryder's adorable, sympathetic performance, as her character helps to see the humanity that is lost in our misunderstood protagonist and learns to love him in all his misshapen ways, therein by helping us love the title character as well. While Winona Ryder can play the prickly outsider quite well, it is often her softer, sweeter performances that sing as well. And in Edward Scissorhands, that's certainly true.
Black Swan
Another movie that's considered more of another actor's flick, this time a Natalie Portman vehicle rather than a Winona Ryder movie, for understandable reasons, there is so much to appreciate about Winona Ryder's work in Darren Aronofsky's Black Swan. The psychological horror movie is often disturbing, built on haunting images and disturbing events. But one of the more underrated elements of the film's prolonged creepiness is Winona Ryder's performance as Beth MacIntyre, a prima ballerina who is forced into retirement in the competitive world of ballet and becomes a confrontational, threatening and later terrifying figure for Portman's Nina Sayers.
In a career where Winona Ryder has often made an impression with her supporting turns, Black Swan is no exception. Indeed, one of the most chilling sequences in the film involves Winona Ryder, who has been pushed to the brink of madness. The scene serves as a stark and horrifying personification of what the competitive field of arts and ballet can do to do who feel cast out. It's a disturbing and bleak performance, and Winona Ryder really sells it.
Beetlejuice
Because who doesn't love Beetlejuice? Tim Burton's sophomore feature is a wonderfully dark and delightfully perverse dark fantasy-comedy, one that is often best remembered for Michael Keaton's astounding performance in the titular role. To ignore the talents of its other cast members would be a great shame, particularly when we're talking about Winona Ryder's involvement in the classic '80s title.
As Lydia, the gothic daughter of Charles and Delia Deetz, Winona Ryder is sarcastic, brooding and instantly winsome. Particularly as the supernatural elements of the story become a part of their family dynamic, the wealth of invigoration and spellbinding delight that can come from Winona Ryder's performance makes it perfectly clear why she became one of the familiar faces who were often found in Tim Burton's films. And it helped to pave the way for her long-standing career. And deservedly so. She is filled with lots of heart and charm in this movie, and she quite instantly won viewers over.
Heathers
Because how could we not end with Heathers? Quite possibly Winona Ryder's most iconic performance, the teenage dark comedy has since spawned a musical and a television series after its influence, and it's often thanks to Ryder's memorable, massively appealing performance that the film has rose into cult status as quickly as it has. In many different ways, Heathers is the film many people instantly call to mind when thinking of Ryder.
Her performance is magnificent in Heathers, and it's a great showcase for the wealth of talent that is found in Winona Ryder. The film has earned no shortage of fans over the years, and Ryder's performance in the film is quite easily at the top of the list of reasons why people love this movie so much. The film's tone could be a hard sell unless someone like Ryder didn't captain this ship, and she instantly won over viewers with her talent and charm.
With that, it's apparent that Winona Ryder has proven herself in a variety of different films, from dark comedies to emotional dramas. And that's without mentioning a few other memorable performances from her resume, including, but not limited to, such titles as Destination Wedding, Alien Resurrection and Autumn in New York, to name a mere few. She is continuing to prove herself with a number of new roles, and audiences will see her again when Stranger Things season 3 hits Netflix later this year.
Your Daily Blend of Entertainment News
Will is an entertainment writer based in Pittsburgh, PA. His writing can also be found in The Playlist, Cut Print Film, We Got This Covered, The Young Folks, Slate and other outlets. He also co-hosts the weekly film/TV podcast Cinemaholics with Jon Negroni and he likes to think he's a professional Garfield enthusiast.