Tom Cruise Met With The U.K. Government To Figure Out Mission: Impossible 7 Quarantine Rules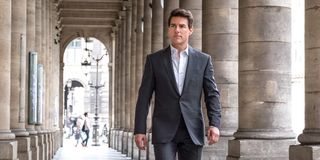 In a typical situation, it seems unlikely Tom Cruise would speak with the U.K. government when filming a movie in their country. But these times are anything but typical. So, now, to get Mission: Impossible 7 rolling again, Tom Cruise met with them to go over quarantine rules.
According to Deadline, the U.K. will allow a small cast and crew to travel to the country to film without quarantining for 14 days. Culture secretary Oliver Dowden contacted Tom Cruise to go over plans and how Mission: Impossible 7 can resume filming at Warner Bros. Studios Leavesden. This is a major step forward for the blockbuster, making it one of the first major blockbusters to start up production.
Earlier this year we learned from First Assistant Director Timothy Gormley that Mission: Impossible 7 was slated to start filming again in September in Venice. But director Christopher McQuarrie and Tom Cruise must have unfinished business in the U.K. and want to get started earlier there. And now it looks like that'll happen sooner rather than later.
This could mean there's more to be shot in the U.K. that had to stopped back in March. At that time, while Mission: Impossible 7 filming halted in Italy, Tom Cruise was still filming dangerous stunts on a test track in Surrey, England.
Filming in Venice, Italy was going to be the biggest part of the Mission: Impossible 7 production, but before Tom Cruise even traveled to that location, things came to a screeching halt. Earlier It was reported that the studio considered scrapping filming in Italy at all, moving things to a sound stage, instead. Now, it sounds like the hope is they'll be able to film in all the originally planned locations.
How the cast and crew are going to film in those locations has yet to be seen. But, according to actor Simon Pegg, Mission: Impossible 7 production will likely start with all the outdoor stuff, saying that should be "doable." People working in close proximity will also need to be tested for COVID-19 frequently.
Of course, the frequent delays in filming has caused both Mission: Impossible 7 and 8 to have their release dates pushed back. The original plan was to have Mission: Impossible 7 release on July 23, 2021 and Mission: Impossible 8 release on August 5, 2022. Now, however, #7 will release November 19, 2021, and #8 release on November 4, 2022. But, with the ever shifting release date schedule, it wouldn't be surprising if these dates ended up changing.
Mission: Impossible 7 isn't the only movie production gearing up and rolling the cameras soon. It was reported recently that Jurassic World: Dominion will be filming in mid-July at Pinewood studios. The Matrix 4 and Avatar 2 have also started their productions back up as well.
Hopefully, Tom Cruise and the cast and crew of Mission: Impossible 7 can stay safe and healthy while filming again in this challenging time. Stay tuned for more updates and movie news as it lands.
Your Daily Blend of Entertainment News