Could Mission: Impossible 7 Scrap Its Plans For Filming In Italy Once Sets Kick Back Up?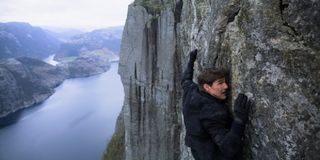 Not unlike many other Hollywood productions, the production of Mission: Impossible 7 has been delayed since early March due to current events. Initial plans were to start shooting in Italy again in June, but could those plans be scrapped too? Mission: Impossible 7 producers have been reportedly weighing their options.
Insider reports indiate that Tom Cruise is eager to hop back into it as super spy Ethan Hunt, hanging off of airplanes, repelling off tall buildings, and saving the world in the process. But insiders say with signs that the pandemic could be leveling off, that Tom Cruise is hoping Mission: Impossible 7 production can kick back into high gear in June.
Still, it's unclear if major actors like Tom Cruise will be flying out to international locations like Italy any time soon. The report by Variety indicates they might have Tom Cruise shoot domestically in a sound stage instead.
Besides, even if the virus subsides, the powers that be will want to keep the cast and crew protected. According to the report, Mission: Impossible 7 producers are weighing if they should push the scheduled shoot in Italy to the fall or scrap it altogether. Some experts say COVID-19 could die down in the summer and spike back up in the fall and winter.
Filming in Venice, Italy was going to be a massive part of production for Mission: Impossible 7 with everything being setup and ready to go for Tom Cruise and company to get started. Unfortunately, they moved to shut down production as the local government worked to stop large public gatherings. Tom Cruise was not in Italy at that time.
Simon Pegg commented on the Mission: Impossible 7 production shut down early in March, and wasn't overly distressed about it. He said everyone's excited to get back to it, but it's a setback and the important thing is safety and not contributing to the crisis.
Even though production halted in Italy, that doesn't mean production has stopped altogether. The cast and crew reportedly went to work in the United Kingdom, filming Tom Cruise doing insane stunts, this time on a motorbike.
What we know so far about Mission: Impossible 7 is pretty limited at this point, but we know it won't be the last movie in the franchise starring Tom Cruise's Ethan Hunt. Reports have indicated there's already plans for a Mission: Impossible 8.
We also know an important character from the original Mission: Impossible will also return for the sequel. And it's been a long time since we've seen this character, considering he only appeared in the first. That's right, original IMF director Eugene Kittridge will make an appearance.
Mission: Impossible 7 is currently expected to release on July 21, 2021, although these delays might result in a new release date.
Your Daily Blend of Entertainment News
Your Daily Blend of Entertainment News
Thank you for signing up to CinemaBlend. You will receive a verification email shortly.
There was a problem. Please refresh the page and try again.