Mission: Impossible 7's Simon Pegg Reveals How Filming Could Start Back Up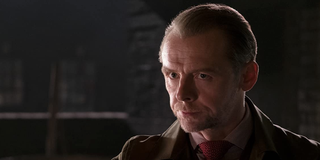 In case you missed it, Mission: Impossible 7 halted filming due to current global health concerns. This was back in late February when they were gearing up to film in Italy. Naturally, these delays inevitably caused both Mission: Impossible 7 and 8 to have their release dates pushed back. Now, however, Simon Pegg reveals filming could start back up.
Earlier this year, the Mission: Impossible 7 producers discussed about how they could kick start production again, including skipping filming in Italy entirely. According to Variety, now Simon Pegg has revealed some more details on how they could start filming again. Here's what he said:
Just yesterday we got word that they're planning to start filming again in September, according to Mission: Impossible 7 First Assistant Director Tommy Gormley. The cast and crew will start in Venice and then move on to the other originally planned locations. However, it's still not clear what safety protocols they will use when they're in close proximity. Simon Pegg added:
Simon Pegg has been an integral part of the Mission: Impossible franchise since Mission: Impossible 3, playing the character Benji Dunn. Back in March, shortly after the shut down, he shared how he felt about the situation-- sitting they'll get back to it when the timing is right and the important thing is that everyone is safe. But Pegg also noted they're all excited to get back into the swing of things and that it'll be fun when they do.
The Mission: Impossible 7 delays are not without their consequences. Other than having to push back their release dates, they also lost their main villain. Originally, Nicholas Hoult was set to play this role, and it sounds like he was already busy prepping for it, but recently it was reported that the delays caused scheduling conflicts with the actor. He has since pulled out of playing the role, and is being replaced by Esai Morales.
The Mission: Impossible 7 production also was embroiled in rumors earlier back, saying that Tom Cruise was in Italy at the time of the shutdown, trying to escape the coronavirus. Director Christopher McQuarrie shot these baseless rumors down, saying that Tom Cruise wasn't even in Italy at the time. Instead, he was in London, 900 miles away.
While the shutdown is a real bummer, it's good to hear from Simon Pegg that they'll be gearing back up again in September. Plus, if there's one thing we've learned from past Mission: Impossible production delays, they usually mean better writing and a better movie on the other side of things. Mission: Impossible fans may have to wait a little longer for it, but I bet it'll be well worth the wait.
Your Daily Blend of Entertainment News
Thank you for signing up to CinemaBlend. You will receive a verification email shortly.
There was a problem. Please refresh the page and try again.