Doctor Sleep's Director Shares Details For His Shining Prequel, Still Thinks It Could Get Made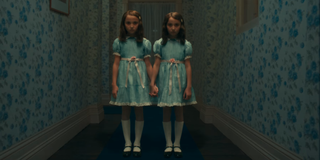 In a perfect world, more people would have realized how awesome Mike Flanagan's Doctor Sleep was (it's a masterpiece), and the horror director would he hard at work on yet another The Shining spinoff that would have tied audiences even closer to the Overlook hotel. Before Doctor Sleep came out, we reported that Flanagan was circling a project tentatively titled Halloran, and it would have shifted focus to Dick Halloran, the cook who helped educate young Danny Torrance about his shine.
Well, Doctor Sleep didn't do as well as Warner Bros. had hoped. It grossed $31 million in the U.S., and $72 million globally. But more people are finding it on HBO and Blu-ray, now that it's available. Flanagan came on our ReelBlend podcast to talk all things Stephen King, and we asked him about Halloran, and its prospects. He told us:
The way that there can be new life for Halloran is if enough people find Doctor Sleep on HBO, or on the DVD and Blu-ray (where Flanagan's superior three-hour Director's Cut awaits) and spread the news of how passionate Stephen King fans are about this adaptation. Mike Flanagan was very candid in expressing the roller-coaster ride that he has been on following the Doctor Sleep release, confessing:
So you are telling us there's a chance? We'll take it. Mike Flanagan was an amazing interview, and you can listen to the whole bonus episode of ReelBlend right here:
As for Doctor Sleep, it's on DVD, Blu-ray and streaming on HBO and HBO Max. Take the time to watch it now.
Movie junkie. Infatuated with comic-book films. ReelBlend cohost. Resident dad. Extroverted introvert. Wants to see the Snyder Cut. Managing Director at CinemaBlend.