6 Great Things About Drive-Ins We Should Appreciate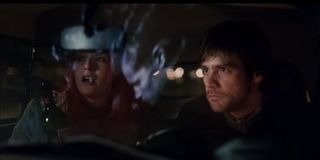 In a world where it feels like movie theaters may never re-open, a shining light has gone into the shadows. Out of those shadows, the idea of drive-ins has re-emerged, and now the dinosaur of the film industry is set to make a comeback in a major way over the next few months. Weirdly enough, it's thanks to major corporations like Wal-Mart, and not the theaters themselves hosting this temporary drive-in revival.
That's neither here nor there, though. The bottom line is that drive-in theaters, my preferred method of seeing movies for decades, is back on the come up. I hope that many people will soon see the light in visiting a drive-in for themselves, but for anyone who may need to be convinced to go in the first place, here are some of the glorious things about them we tend to take for granted.
You Never Have To Worry About Finding A Seat
It's very hard not to find somewhere to sit at a drive-in, mostly because you arrive in a car that already has exactly that. Of course, families can always opt for the lawn chair method as well, or even pop the seats out of the car and enjoy one of the only times it's socially acceptable to do that.
My personal favorite is the SUV/Minivan method of sprawling out with blankets in the back hatch. Haters will say truck beds are the definitive method, but are forgetting the SUV setup usually has two speakers right next to you as you watch the movie. Going back to theaters is going to feel crazy restrictive if I have to settle for either a regular seat or springing the extra cash for a recliner.
There's Usually A Double Feature
I have no idea if this will be the case with the pop-up drive-ins that will be coming shortly, but the drive-in showings that I've been to typically show two movies per screen. I can't stress enough how awesome this is, because there's no losing when it comes to two movies.
Is the first movie bad? No problem, the second one is probably better. Loved the first movie but the second isn't your thing? Just go home. If you're lucky enough to see two absolute masterpieces back to back it's a good night. If, and this is a big if, you bought a ticket that had two bad movies back to back, why the hell did you buy that ticket in the first place? As I said, there's no losing when it comes to a double feature.
Sneaking In Food Is Easier Than Ever
Note that while I never advocate sneaking in food when attending a movie in a theater, I understand, it is a part of life that happens quite regularly. I'll add that this practice isn't as taboo when attending a drive-in, and in a time of COVID-19, might be the safer method of snacking when compared to standing in a concession line.
When you aren't worried about whether or not the food you have can fit in a purse or oversized hoodie, the sky's the limit. Pizza, footlong hoagies, every type of Asian food, and whatever damn popcorn you want to pop. Hell, you could set up a whole build-your-taco bar if you're feeling extra ambitious, though the options are only as good as the car owners' tolerance for possible spills. My tip would be to bring a blanket or something else to enjoy the meal outside, because freedom of food choice is by far the best perk of this experience.
Drive-In Theaters Are A Highly Customizable Experience
If it wasn't readily apparent by the first few points, there's a lot of fluidity in what one can do when they visit a drive-in. The real fun is that you have a wide variety of ways to enjoy your feature, provided you're willing to do a little bit of prep work and don't have to conform to too many rules beyond turning off your headlights once parked. Side note from someone with experience: that can be an issue for more modern cars than you may realize, so be sure to figure that out in advance.
I would even go so far to say, if you aren't doing some prep work ahead of going to a drive-in, you're doing the experience all wrong. If your plan is simply to show up in a car, sit there and watch a movie, it's going to feel exactly like that. Have some fun with it, indulge a little bit, and get excited about being part of, what is now, a unique experience!
It's Usually Cheaper Than A Theater
Again I can only speak from personal experience, but the value of going to a drive-in, overall, is much better than a regular theater. Whether it's paying one ticket price for two movies, or the lack of having to purchase concessions. Hell, it could even be the money that your friend who's always late says they'll pay you back if you get a ticket and save a seat for them.
Point being, drive-ins can be as bougie or basic of an experience as you want. You could snag a bunch of stuff off the dollar menu and have a blast watching Gremlins or The Goonies in your car. You could even do that watching Tenet, provided there's still a drive-in in your area whenever that movie decides to release.
Open Air Is Often Better Than A Closed Off Theater
Even when it's hot outside, I would much rather chill outside in the night air than deal with the mildly uncomfortable temperatures of my theater. I'm not sure if I'm the only one who frequently suffers from not dressing warmly enough for a primetime showing, but I'll be damned if I don't immediately regret it when the cold sets in.
This problem is mitigated at the drive-in. If the weather is too cold, you can get back inside the car and warm up with a blanket or by kicking on the heat. If it's too hot, nothing is stopping you from dumping some water on your head or showing up with a baby pool. Once again, if you're not doing at least some prep work to make your drive-in experience better, that's mostly on you.
Drive-in theaters are on the up, and soon the nation will understand that. For those that aren't drinking that Kool-Aid, the comments are always open for dissent. Continue to stick with CinemaBlend for all the latest news happening in the world of movies and television.
Your Daily Blend of Entertainment News
Mick likes good television, but also reality television. He grew up on Star Wars, DC, Marvel, and pro wrestling and loves to discuss and dissect most of it. He's been writing online for over a decade and never dreamed he'd be in the position he is today.
Your Daily Blend of Entertainment News
Thank you for signing up to CinemaBlend. You will receive a verification email shortly.
There was a problem. Please refresh the page and try again.