At Least One Movie Is Crushing At The Drive-In Right Now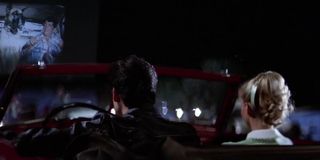 With most major theater chains shut down right now, there are few outlets for new movies these days, forcing studios to either pull a Trolls World Tour and put their movies direct to VOD, or delay their respective releases. Since few standard movie theaters aren't open, long-time underdogs are finally getting their day. Drive-in movie theaters have seen a sudden resurgence, and one low-budget horror movie is crushing it at the drive-in right now.
According to Variety, The Wretched, IFC's horror movie about a boy who faces off against an ancient witch next door, passed the $1 million dollar mark after a month in drive-in theaters. At its premiere, it started at just 11 sites, but has expanded to 95 sites since then and earned $162,000 over this past weekend.
At one time, drive-In movie theaters numbered in the thousands all over the US. However, their popularity waned with each decade and have struggled to survive ever since. They were such an endangered movie business that at one time, Honda sponsored a program called "Project Drive-In" to help them.
In 2014, in an attempt to stay alive and be up-to-date with current standards, roughly 200 drive-ins upgraded their technology to digital projection. It's hard to say if those investments actually paid off or not.
Now, due to these strange times, people are hungry to get a movie theater experience any way they can and have been flocking to drive-ins. This has fueled their sudden box office dominance and highlighted movies that might not have gotten the same amount of attention under normal circumstances.
The Wretched isn't the only horror movie taking advantage of drive-in movie theaters being open this summer. R-rated horror movie Becky, starring Kevin James, Lulu Wilson and Joel McHale, premiered at 50 drive-in theaters and is receiving generally favorable reviews among critics and audience.
As it so turns out, drive-ins aren't just saving the moviegoing experience; they're also saving weddings as well. One couple in Texas planned to get married in a hotel, but those plans quickly fell through. In an attempt to save their wedding, they quickly pivoted to their local drive-in movie theater to hold the ceremony.
While their time is now, drive-ins may struggle to keep up the momentum once movie theaters decide to reopen. According to recent reports, Cinemark is planning to reopen in July with new safety measures in place, including plexiglass screens, increased sanitation and "seat buffering technology."
Still, drive-ins have a couple more months until movie theaters start to reopen in mass, and if China's movie theater reopening experience is any indication, audiences may not be too eager to run back to the theater so soon. So, if that describes you, maybe see if a drive-in movie theater is near your area and give them a shot. You never know, it might be your new favorite spot to watch a movie.
Your Daily Blend of Entertainment News