9 Interesting Midsommar Behind-The-Scenes Facts You Might Not Know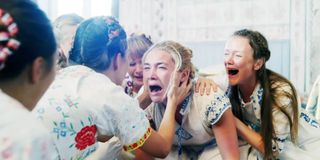 WARNING: The following article contains multiple spoilers to Midsommar. Continue reading if you dare...
It has been roughly a year since writer and director Ari Aster gave Americans a reason to cancel any upcoming trips to Sweden they may have planned. If there was any doubt in your mind that a film like Midsommar could be any more disturbing, we have found a few behind-the-scenes facts that might just convince you otherwise.
The story of a grieving college student (Florence Pugh) who follows her emotionally distant boyfriend (Jack Reynor) on a summer trip to a rare pagan festival made the Academy Award-nominated Pugh (for Little Women) a household name, cemented Ari Aster as one of the most unique storytellers of the horror genre after already gave enough people the willies with Hereditary, and also proved that nightmares can exist even in broad daylight. Midsommar is a combination of so many odd elements and relentlessly dreadful themes that do not seem like they should work together, yet it is that particularly uncomfortable dissonance that lends to its lasting effect.
If you still find yourself scratching your head over what the film actually means, we might actually be able to help. The following 9 bits of trivia will take you deeper into the narrative themes, on-set stories, and the cultural impact of Midsommar.
Ari Aster Wrote A 100-page "Bible" Developing The Story Of Midsommar
Ari Aster was sure to keep the heinous depictions of pagan ritual in Midsommar a priority in the development process. In fact, his notes plotting out the details for the world of the film materialized into about 100 pages of notes, something much of the cast actually were not even aware of. When CinemaBlend's Eric Eisenberg asked William Jackson Harper, who plays Josh, Will Poulter, as Mark, and Vilhelm Blomgren, who plays their Swedish friend Pelle, about Aster's "bible," it was apparently Harper and Blomgren's first time hearing about it, but given the filmmaker's demanding process and keen attention to detail, it did not sound like much of a stretch to the actors.
Many Of The Bizarre Rituals Depicted In Midsommar Are Based In Fact
Thankfully, (or probably even more disturbingly so), not all of the details of Ari Aster's movie bible came purely from the darker corners of his mind. Some of the strangest moments from Midsommar do reference actual ritualistic practices and pre-existing folklore that Aster came across in his research for the film, but mostly as a basis for his own fictionalized interpretations, as he explained to Letterboxd in the quote below:
Oh, dear. Well, now, I suppose you know not to blame the messenger for losing your lunch over that twisted scene.
Sweden-Set Midsommar Was Actually Filmed In Hungary
Despite how Ari Aster's strict attention to authenticity for Midsommar is no secret, one crucial element of the film that turns out to have been an act of fabrication is the setting. While it takes place in the country of Sweden during a real (but, of course, grossly exaggerated) traditional Swedish cultural festival, the film was actually shot near Budapest, the capital of Hungary, which Aster has claimed was due mainly to budgetary limitations.
Jack Reynor Advocated For His Own Nude Scenes In Midsommar
One of the more shockingly authentic details of the film, however, depicts Jack Reynor's character, Christian (a.k.a. "Boyfriend of the Year"), at his most "naked" in Midsommar, which he believed was an absolute must to take as literally as possible as often possible. While the nude scenes were included in Ari Aster's original script, the Irish actor personally insisted on emphasizing him going full frontal, seeing it as "an opportunity to take a character who exhibits a lot of archetypal male characteristics — like male toxicity — who has all of the stuff stripped away from him through the course of the film and then ultimately finds himself in this situation which is kind of the ultimate humiliation," as he said to Variety.
It is no wonder why Reynor celebrated his return from that taxing production in well-deserved, booze-swilling bliss afterward.
Florence Pugh Has A Lighter Interpretation Of Midsommar's Final Scene Than Ari Aster
Arguably more disturbing than Jack Reynor's nude scene is his death scene, to which his (now) ex-girlfriend, Dani, reacts to with a smile as bright as the Swedish sun. This perplexing final moment in Midsommar inspired differing interpretations, such as Florence Pugh's belief that her jubilance is a childlike, disorientated response to the incendiary display, blissfully unaware Christian is part of it, adding, "You're not going to watch your boyfriend cheat and be like, 'Burn!'"
However, the man who wrote it, Ari Aster, claimed the opposite to USA Today, stating:
Midsommar Originally Scored An NC-17 Rating
Among those aforementioned scenes edited from the theatrical version of Midsommar are probably the same details that earned the film an NC-17 rating at first. As Ari Aster revealed during a Q&A with fans on Reddit in the summer of 2019, it took six weeks of "back-and-forth" before his F-bomb worthy kaleidoscope of hedonistic, graphically explicit insanity could be given a more commercially acceptable R rating, which could be one of the rare instances in which you can actually empathize with the MPAA for being a little picky. For those who have the stomach to experience even more from the world of the thriller, a 3-hour director's cut is also available.
Ariana Grande Had A Midsommar-themed Birthday Party
Someone who clearly could not get enough of the world of Midsommar is Grammy-winning pop music singer Ariana Grande, who cited Ari Aster's feature-length sophomore effort as her favorite film of 2019. Instead of having the patience to wait another 90 years to experience the festivities of the titular cultural event, the former Nickelodeon star decided to turn her own 27th birthday party into a recreation of the festival, even going as far as sharing a photo on Instagram of herself in a floral Mayqueen crown a la Florence Pugh, who also expressed praise of the celebration on the social media platform. Hopefully, that was the extent of any similarities to anything depicted in the film.
Midsommar Is Largely Inspired By Ari Aster's Own Past Relationship
In retrospect, amid all the odd, cultish themes and tragic subject matter, it should not come as too much of a surprise to learn that Ari Aster intended for Midsommar to be perceived as a breakup movie. The writer and director explained to Birth.Movies.Death that, "I saw a way of marrying the breakup movie that I had in me at the time with the structure of a folk horror film," but does not mention in that particular interview that a former romantic relationship from his own life served as the basis of the story. When speaking with the San Antonio Current, who asked him if his ex realizes they inspired Dani and Christian's stunted romance, Aster says, "I don't know. I imagine they might have some idea. I can't imagine they'd be happy about it."
Free Couples Therapy Was Given Away In Promotion Of Midsommar's Digital Release
It seems that Ari Aster and A24, the production company behind Midsommar, were aware that the film would not be a very good date movie and might feel somewhat responsible if its anti-romantic themes were to cause any friction between once-happy couples who saw it together. So, to promote the thriller's release on digital platforms, a contest was held promising to award the winning participants with three months of free couples counseling, courtesy of online therapy site Talkspace.
An ironically funny video announcing the promotion compiles many of the most tenuous moments between Dani and Christian in the film along with testimonies from Ari Aster and Florence Pugh, who admits that she believes her portrayal may invoke trust issues for a future significant other, but it is hard to imagine anyone suffering a greater fate to their romantic life after that than Jack Reynor, who is, thankfully, engaged already.
What do you think? Have all of your questions about Midsommar been answered or do you feel we are still ignoring the bear? Let us know in the comments and be sure to check back for additional information and updates on Ari Aster's cult masterpiece, as well as even more in-depths looks at some of your favorite movies and TV shows, here on CinemaBlend.
Your Daily Blend of Entertainment News
Jason has been writing since he was able to pick up a washable marker, with which he wrote his debut illustrated children's story, later transitioning to a short-lived comic book series and (very) amateur filmmaking before finally settling on pursuing a career in writing about movies in lieu of making them. Look for his name in just about any article related to Batman.