How Many Walt Disney World Fans Actually Showed Up To The Magic Kingdom And Animal Kingdom On Opening Day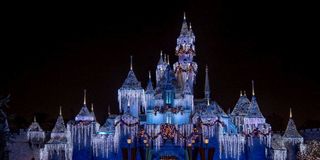 There were mixed reactions when Disney announced it would reopen its parks following historic closures due to COVID-19. While some fans were eager to embrace the parks' new safety rules and get back to the Happiest Place on Earth, others were concerned that they were opening too soon. Now, we know how many fans actually showed up to Disney World and Animal Kingdom the day the parks reopened, and it could be telling about what the next few months there will look like.
All told, approximately 16,000 people gained entry to Disney World and Animal Kingdom on July 11, 2020, per USA Today. That number is considerably less than what the parks would see in a normal day -- and it was clear that the new 'normal' at Disney will be a bit of an adjustment for park goers.
Disney World has instituted strict guidelines to attempt to minimize the spread of COVID-19. That means, among other things, that all attendees are required to have their temperatures taken prior to entry and to practice physical distancing and wear masks while inside the park. Disney World cast members (employees) are also required to follow these guidelines, and many of them wore face shields as well. There are also stations with hand sanitizer available outside each attraction. And, just in case fans didn't realize just how different things are, there are also copious signs posted throughout the park that reinforce these rules.
The park has also changed the way it will be issuing tickets and resort reservations for the foreseeable future. An online system now requires guests to purchase tickets in advance, which will make it easier for the parks to operate at reduced capacity while COVID-19 is still a threat.
Despite concerns from some about safety, those who did attend the park's reopening noted that there are some upsides to the changes the park has implemented. While the lines themselves will be longer, since everyone is spaced out, parkgoers reported shorter wait times -- or, in some cases, no wait times at all -- on opening day.
Disney World isn't the first Disney park to reopen -- in places like Shanghai, Disneyland has been open since May. While Disneyland's park openings are still up in the air, both Downtown Disney and resorts there have already begun to accommodate crowds of fans. However, all eyes were on Disney World and Animal Kingdom, in particular, because Florida has recently seen a spike in COVID-19 cases. and some are wondering whether the parks' reopening could increase the spread even more.
It remains to be seen whether business as (sort-of) usual will resume long term at Disney World and Animal Kingdom. As of right now, the company plans to reopen Epcot and Disney Hollywood Studios on July 15.
Your Daily Blend of Entertainment News