Man Of Steel Fan Poster Welcomes Brainiac To The DCEU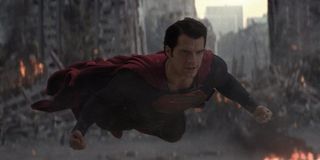 A lot has happened since Man of Steel released in 2013. Wonder Woman and Aquaman are getting sequels, with Wonder Woman 1984 set to release this year. Batman is getting a reboot, The Flash movie is still in development, but what about Superman? Well, a DC fan has one vision for what a Man of Steel 2 might look like, and it includes Brainiac in the DCEU.
There's plenty of storylines and villains Superman could fight in a sequel to Man of Steel. But, one villain that would certainly make a formidable enemy is Brainiac. Now, one DC fan has taken to social media to show what that might look like. Check it out:
I have to admit, this could be pretty cool. If DC wanted to follow the threads of Zack Snyder's continuity in Batman v Superman: Dawn of Justice and Justice League, making a Man of Steel sequel with Brainiac would be conceivable. After all, Batman v Superman: Dawn of Justice does seem to set up the possibility of involving Brainiac eventually.
What's more, even Henry Cavill voiced support for this idea back in 2018. At that time, Henry Cavill spoke about the possibility of Man of Steel 2, and when asked who he would want to face off against, he wanted Brainiac. As for why that particular villain, Henry Cavill said he's a big threat and a lot of fun.
But while it's been a long time since Man of Steel first released, there's no signs a Man of Steel 2 is even in development. The last we heard there was no script written and little faith in the franchise being successful. But that hasn't stopped fans from theorizing the franchise's future.
And the lack of development doesn't mean we won't see Superman again in some capacity. News broke recently that Henry Cavill had been in talks with Warner Bros. about returning as Superman, just not for a Man of Steel 2. It's unknown what movies he'd appear in, but if I had to guess, I'd say Shazam 2, The Flash movie, and Zack Snyder's Justice League are pretty likely, right?
Regardless, it's somewhat understandable why DC isn't interested in continuing Man of Steel. Upon its release, the movie received lukewarm reviews. Though some have argued it's much better than most remember. Plus with The Batman releasing next year and Joker's success, fans are also wondering if Superman could get the reboot treatment.
Still, Man of Steel 2 with Brainiac as the big bad feels like it could be a winner with the right director and writer at the helm. On top of that, DC fans are generally in favor of Henry Cavill as Superman. So, many might like the idea of seeing him back a strong comeback in another solo adventure.
Your Daily Blend of Entertainment News
Thank you for signing up to CinemaBlend. You will receive a verification email shortly.
There was a problem. Please refresh the page and try again.