10 Quintessential Black Movies Of The 2000s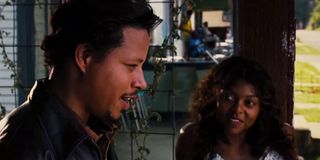 I already covered the most quintessential black movies of the '90s, so I thought I would tackle the best ones from the early 2000s next. But one thing struck me while researching this topic—black movies of the 2000s were less ambitious than the ones of the '90s. There's no definitive horror movie like Candyman (unless you're counting Bones with Snoop Dogg. And I'm not counting Bones). There's no bad ass action movie like Set It Off (Black Dynamite rules, but it's more of a comedy. Bad Boys II is a sequel to a much better film). And you don't really have a defining movie like Waiting to Exhale in the 2000s. What gives?
Good question, but it seems like all the great black movies (Like Get Out, Selma, Sorry to Bother You, etc) would come out in the next decade. Still, there are a few shining moments of the 2000s, and that's what I want to talk about today.
Dreamgirls (2006)
This musical drama starring Beyonce, Jamie Foxx, Eddie Murphy, and the Academy Award-winning Jennifer Hudson, is about a black girl group in the 60s called "The Dreamettes" (even though the obvious inspiration was The Supremes) and the trials and tribulations they face coming up in the business. The movie is known for its exceptional music and also for reigniting Eddie Murphy's career.
The cast is almost entirely black, and the hefty $80 million budget shows that Dreamworks and Paramount had faith that this movie would be a hit. And it was! It's a true shining moment of the 2000s, and a great musical to boot.
Precious (2009)
This dark drama directed by Lee Daniels follows a young black woman named Precious (played by Gabourey Sidibe) who is verbally and emotionally abused by her mother (played by the Academy Award-winning Mo'Nique) and sexually abused by her father.
Precious is a powerful but hard movie to sit through. Its characters and setting are distinctly black, and it deals with the harsher sides of life that most movies wouldn't even dare to touch. A whole decade later, Precious is still worth your time. And your tears.
Hustle & Flow (2005)
Hustle & Flow, starring Terrence Howard and Taraji P. Henson before they became Lucious and Cookie on Empire, is a wild ride about following your dreams. It concerns a pimp (Howard) trying to make it in the rap game. Henson plays one of his prostitutes, and they work together and fall in love. It's actually a fun little movie with some drama sprinkled in for good measure. And Terrence Howard was even nominated for an Oscar for his role. It was well-deserved.
The music is great (three 6 Mafia won an Academy Award for their hit single, "It's Hard out Here for a Pimp"), and the story is never boring. Hustle & Flow is a much better version of 8 Mile. Yeah, I said it.
Love & Basketball (2000)
Sure, we didn't have a Waiting to Exhale in the 2000s, but we did have the romantic sports drama Love & Basketball, so at least that's something. Starring Omar Epps and Sanaa Lathan, and helmed by The Old Guard director, Gina Prince-Bythewood, Love & Basketball is about two basketball players (Epps and Lathan) who love both the game of basketball, and each other.
There weren't a lot of romantic movies starring black leads in the 2000s, so Love & Basketball was a great one to the start off the decade with.
Diary of a Mad Black Woman (2005)
Witness the cinematic birth of Madea! You may laugh when I call a Madea movie "quintessential", but it is. This romantic comedy-drama is about a scorned woman (played by Kimberly Elise) who gets kicked out of her home by her rich husband (played by Steve Harris), only to find redemption and have sympathy for him once he gets shot and is possibly paralyzed.
This movie is quintessential because it was probably the first time in Hollywood history that movies made specifically for black audiences became a roaring success and built a franchise. Really, you can't look back upon the 2000s without remembering Madea, and this film was the start of all that.
Drumline (2002)
Nick Cannon, Zoe Saldana, Leonard Roberts, and Orlando Jones star in this drama about teens playing on a drumline at a fictional college.
Drumline is quintessential since it shows college life from a black perspective. Plus, it's a thrilling movie. You wouldn't think seeing people compete to be on a drumline would be enthralling, but it is. And who doesn't love Zoe Saldana?
Big Momma's House (2000)
Martin Lawrence dresses up as an elderly grandma to go undercover for the FBI. What's not to love?
Honestly, I was going to pick Blue Streak since it's the superior Martin Lawrence film, but that movie came out in 1999, just missing the mark. But Big Momma's House is still super funny. The '90s had Eddie Murphy in The Nutty Professor, and the 2000s had Big Momma's House. And would you believe it was a trilogy?
Barbershop (2002)
Ice Cube, Cedric the Entertainer, Anthony Anderson, and the rapper Eve star in this comedy about a barbershop in Chicago. Annnd… that's about it.
There is actually a plot in Barbershop, but what makes it special and quintessential black cinema is that it really captures a slice of life in the black community. The barbershop really is a place for men to unwind and discuss everything under the sun. So for a movie to actually capture that so well makes it a cornerstone picture in black cinema.
The Great Debaters (2007)
The obligatory safe-for-school film of the 2000s, The Great Debaters, which was directed by and starred Denzel Washington, is a period piece about black students in the 1930s who debated against white students at Harvard (though, the real black students actually went against a team at the University of Southern California).
I feel like every decade should have your happy history lesson (the 2010s had Hidden Figures), and this is the one for the 2000s.
Antwone Fisher (2002)
Denzel's directorial debut (The Great Debaters was his second film), Antwone Fisher is a biographical movie starring Derek Luke as the titular character. It's based off of a true story of a young man who suffered great abuse as a child, and his life as an adult in the Navy.
Like Precious, Antwone Fisher just feels like important viewing, since it tackles childhood abuse and abandonment. It's a powerful movie, and if you were to ask me what the best black-led movie of the 2000s was, I'd probably say Antwone Fisher.
As mentioned in the intro, I don't feel that the 2000s were as memorable as the '90s, or as vital as the 2010's. But there were some gems in there, and I hope this article helped you to remember a few of them.
This poll is no longer available.
Your Daily Blend of Entertainment News
Rich is a Jersey boy, through and through. He graduated from Rutgers University (Go, R.U.!), and thinks the Garden State is the best state in the country. That said, he'll take Chicago Deep Dish pizza over a New York slice any day of the week. Don't hate. When he's not watching his two kids, he's usually working on a novel, watching vintage movies, or reading some obscure book.