Zack Snyder Has Some Blunt Thoughts On The Idea Of Using Joss Whedon's Justice League Footage In The Snyder Cut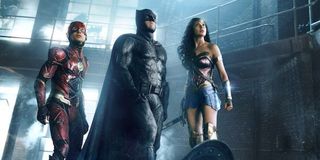 Zack Snyder has always been clear about how he feels about Justice League: he's not a fan. From his conflict with Warner Bros. to the final cut, he's gone on record saying he would have liked for basically everything about it to be different. And if you thought he might soften his stance now that he's in full swing preparing for the Snyder Cut, you'd be wrong. In fact, he recently had a blunt response when asked about using Joss Whedon's Justice League footage.
By now, the Snyder Cut is the stuff of Hollywood legend. After years of campaigning, fans were delighted to find out that HBO Max will be funding and releasing Zack Snyder's version of Justice League. The director has been hard at work getting it ready and sharing updates with fans. He's also opening up a bit about his mindset as he prepares to share the Snyder Cut with the world.
During a panel conversation with Justice Con, Zack Snyder spoke very (very) openly about how he felt about using Joss Whedon's Justice League footage for the Snyder Cut:
We can safely take that as a "no," then. His vehement answer doesn't really come as a surprise, though. Zack Snyder has never been shy about his disappointment in the fact that Justice League was reworked and has not even watched Joss Whedon's cut. He's also clearly not thrilled about the way in which his departure from the film was handled -- so it's understandable if there's still a bit of animosity.
It's also likely good news for most fans who feel the same way about Justice League. For years, they've dreamed of getting to see Zack Snyder's fully realized vision for the film, so knowing that everything on screen will be his footage is probably a relief. The director also recently shared a scene featuring Superman that has fans more eager than ever to see what he has in store for us with the Snyder Cut.
Meanwhile, Joss Whedon's role in Justice League has been called into question a lot more in recent weeks. First, Ray Fisher spoke up about the way the director had treated the cast and crew on set. Then, Kevin Smith hinted that he, too, had heard that it wasn't the best experience for everyone involved.
Ultimately though, the point of the Snyder Cut is that it isn't about Joss Whedon or Warner Bros. It's a chance for Zack Snyder to finally make the movie he wanted, regardless of anyone else that was involved. In a way, it's like a clean slate. We'll see what the seemingly Whedon-free Snyder Cut looks like when it premieres on HBO Max in 2021.
Your Daily Blend of Entertainment News