Sylvester Stallone Reflects On Demolition Man With Cool Slideshow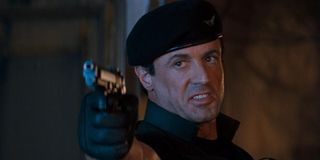 Demolition Man, the science fiction thriller starring Sylvester Stallone, Wesley Snipes, and Sandra Bullock, is almost 30-years-old. When it released, it became a box office smash hit and has since been a beloved movie among sci-fi fans. So in honor of the movie, Sylvester Stallone recently took to his social media to reflect on the movie with a pretty cool slideshow. Check it out:
Ah, the good ol' days. While Demolition Man is a touch cheesy with dated effects, there's still something just fun and entertaining about the movie. And there's little doubt that Sylvester Stallone, Sandra Bullock, and Wesley Snipes are key to that, helping heighten the movie with their performances.
Wesley Snipes, for his part, seemed to relish taking on the character of Simon Phoenix and certainly did a great job playing the over-powered villain. On top of that, we also learned recently that Demolition Man and Snipes was so influential that it inspired Dennis Rodman to dye his hair similar to the look in the movie.
Despite decent reviews and a solid performance at the box office, Demolition Man never got a follow-up. That may be about to change, though. Back on May the 4th, Sylvester Stallone answered some fan questions on social media and let slip that a Demolition Man 2 is in the works. Here's what he said:
Sylvester Stallone isn't usually shy on social media about teasing projects he's working on. But, we haven't heard much about Demolition Man 2 since. Oerhaps they're still working things out? Either way, I'd wager fans are eager to hear more.
Time gap aside, it's somewhat surprising that a sequel would be the in works. Before news that sequel might be in the works, Demolition Man was allegedly caught up in a lawsuit between Warner Bros. and Sylvester Stallone over the movie. According to the report, Sylvester Stallone claimed Warner Bros. intentionally hid Demolition Man's profits. This report was back in 2017, so it's hard to say if the suit was resolved, but if what Sylvester Stallone said is correct, then they must have worked something out.
Of course, if they actually move forward with a Demolition Man 2, there are a ton of questions they're going to need to answer. Like are all restaurants still Taco Bell, how do the three seashells work, and are jingles still a hot music craze? I guess we'll just have to wait and see. Stay tuned to CinemaBlend for the latest news.
Your Daily Blend of Entertainment News
Your Daily Blend of Entertainment News
Thank you for signing up to CinemaBlend. You will receive a verification email shortly.
There was a problem. Please refresh the page and try again.